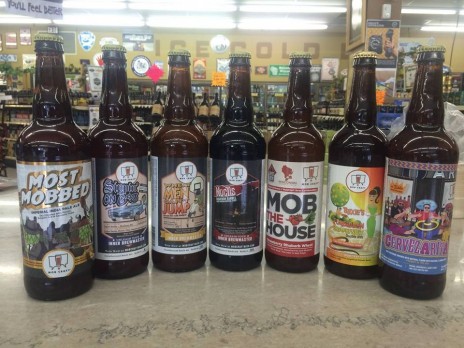 Henry Schwartz, co-owner of Mobcraft Beer, seeks an investment for his crowdfunding/beer platform and micro brewery, in Shark Tank episode 727. Mobcraft Beer takes a unique approach to micro-brewing by adding a crowdfunding component to its mission. Each month, people submit new beer recipes. The recipe with the most votes (pre-orders) gets produced. Customers either pick their beer up at the brewery or get it shipped through an online retailer.
Mobcraft is the most successfully crowdfunded beer in history, but it didn't get its money from Kickstarter, it came from Craftfund, a Wisconsin-based crowdfunding platform. Wisconsin was an early adopter of an investment crowdfunding law that allows backers to become equity participants in businesses they fund. 52 "co-owners" of Mobcraft Beer invested $75,000 to get the company started.
The voting period for a group of recipes is the first three weeks of the month. Most beers are ready for delivery within four weeks, but some take a little longer. The winning brew comes in four-packs that run around $25. You can also buy Mobcraft Beer all over the state of Wisconsin and in two Illinois locations.
Schwartz likely wants a Shark's help expanding his geographic distribution. Will a Shark join this Mob?
Mobcraft Beer Shark Tank Recap
Henry dives right in to the Shark Tank, seeking $400,000 in return for 16% of Mobcraft Beer. He explains how Mobcraft has married the Crowdsourcing model with craft beer, before handing out six sample beers to the Sharks. The flavors receive mixed reviews from the Sharks.
Mark Cuban suggests he could have his social media followers vote up "sardines and chocolate chips" beer, but Henry explains that the "votes" are actually pre-orders. At $25 for four 20 ounce bottles of beer, gag votes are unlikely.
In the past 12 months, Henry has sold $280,000 of the $350,000 total sales of Mobcraft beer since its founding in 2013. He projects a $500,000 sales goal for the current year, but because he's planning a new facility, he estimates the company will face a $28,000 loss.
Kevin O'Leary doesn't like the idea of building a new facility. He says that local craft beer breweries tend to run at 40% capacity, and that Mobcraft could take advantage of the existing equipment by renting or leasing brewery space or outsourcing the brewing itself. Henry argues that his customers "want to see the beer brewed on he home front." He's got a commitment from a bank on a loan of $1.9 million for the build out. A 24 pack of beer costs $28 to make, and retails for $48.
Robert Herjavec says he's "not a beer guy." He goes out. Lori Greiner agrees. She "doesn't know enough about beer," so she's out. Daymond John is the next out, saying "I hate beer, so I can't help you."
Mark Cuban likes beer, but says "I'm a Bud Light guy." He's not a fan of craft beer, and he's out.
Kevin O'Leary is the only Shark remaining. He tells Henry that he's "come up with this incredible model to tap into this amazingly hot trend," and "could make a ton of money riding this wave," but he hates the idea of building a new facility, when there are so many microbreweries with available capacity.
Since Henry is determined to stick to his plan of building a dedicated facility, Kevin goes out, and he leaves the Tank with no Shark deal.
Mobcraft Beer Shark Tank Update
The Shark Tank Blog constantly provides updates and follow-ups about entrepreneurs who have appeared on the Shark Tank TV show. Once an episode has aired, we monitor the progress of the businesses featured, whether they receive funding or not and report on their progress.
Although the Sharks weren't impressed with Henry's ideas, he moved forward with the building, and the brewery is projected for completion in January of 2017. 49 investors disagreed with Kevin O'Leary's opinion, and with their help in addition to a loan for $150,000 from the SBA, the brewery will open in late June or early July.
Only time will tell if Mobcraft Beer will brew up success in spite of sinking in the Shark Tank, but to avid fans, the suds are worth waiting for.
In a 2021 check-in, the brewery building is a big success. They have a taproom with pizza, sandwiches and other pub fare. The restaurant side of the business appears to have weathered the Covid-19 pandemic and they are back open for business. They're also offering brewery tours and they still make the crowdfunded beer too. In September, 2021, the company purchased a brewery in Denver. They'll be partnering with Dee Tacko to provide Mexican food in the space. As of December, 2022, the Denver location is open. The company plans on opening two more taprooms in Illinois and Wisconsin in 2023. Annual revenue is $4.5 million.
Posts About Mobcraft Beer on Shark Tank Blog
Mobcraft Beer Company Information
Video