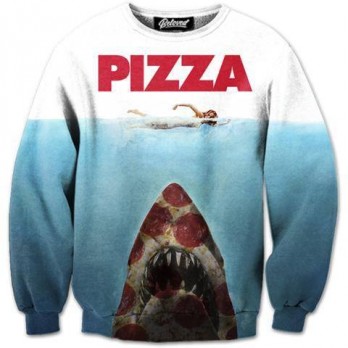 Jeremiah Robison pitches Beloved Shirts, his company that puts all kinds of quirky, fun designs on apparel, in Shark tank episode 727. Robison started Beloved Shirts in 2012 and skyrocketed to "the world's leading sublimation clothing brand" since. All their products are made in the USA using dye-sublimation printers which essentially allow any image or design to be printed on a wide variety of clothing items.
Beloved Shirts gained a lot of publicity when pop star Katie Perry started wearing their "pizza onesie" on a regular basis.  Other celebrities that wore/wear Beloved creations are Cara Delevingne, Lucy Hale, Victoria Justice, Rob Dyrdek, Riff Raff, Perez Hilton, Tyler Carter, Mike Zombie, and Ron Funches.
In addition to shirts, Beloved Shirts creates hoodies, the aforementioned onesies, leggings, yoga pants, iPhone cases, blankets and more. You can even design your own Beloved creation with your photos or artwork. They have so many styles, it boggles the mind. Their mission is to create "designs that will look incredible and will shock people in a pleasant way." Prices vary widely, depending on what you buy, but there are over 300 in-stock items on Amazon where you can purchase the hoodies for 69 bucks.
Mr. Robison likely wants a Shark to help him expand production capabilities for his exploding brand. Will a Shark "belove" this business?
Beloved Shirts Shark Tank Recap
Jeremiah comes to the Shark Tank, accompanied by models wearing his designs. Hugging a rainbow-spewing unicorn statue which appears to be a sort of unofficial company mascot, he asks for an investment of $175,000 in return for 5% of his company. Jeremiah makes an instant hit with the Sharks by handing out personalized samples of his work- a giant portrait of Robert Herjavec on a blanket, and Kevin O'Leary's face populating a pair of boxers. Daymond John is impressed with the sweatshirt with an image of himself wearing a "pizza suit."
The most expensive product he sells is the adult "onesie" sold at $129.99, with a tee shirt running an average of $39.99. His profit margin is a healthy 58-60%. With every product "made to order," Jeremiah has no inventory investment, but turn around from order to delivery is a problem- it's currently 30 days. Even with the slow production time, he's sold $2.3 million in product in the two and a half years he's been in business.
Currently, he has 22,000 SKUs on the website, including sizes. The number of SKUs is one problem. The turn around time is another. Mark Cuban wants to know how Jeremiah plans to scale up. He wants to go into retail "on a limited basis," but needs a manufacturing process that allows faster production.
Mark Cuban doesn't feel Jeremiah has a solid plan for scaling up, and he's out. Robert Herjavec thinks it's "a fun company," but feels the market is too similar to that for his Tipsy Elves investment, so he's out.
Lori Greiner tells Jeremiah that he has "too many SKUs." She suggests that he narrow down the number of SKUs to his top 10 products, and warehouse them for instant delivery. She doesn't feel that the company is investable at this point, so she's out.
Kevin O'Leary agrees with Lori and Mark, and he "forbids" Daymond John from investing "at less than 17%." Mr. Wonderful himself goes out, leaving Daymond as the last Shark standing.
Daymond makes an offer: $175,000 for 25%. Jeremiah counter offers at 15%. Daymond returns with 22.5%. Jeremiah can't live with giving up that much equity, so he leaves the Tank with no Shark deal.
Beloved Shirts Shark Tank Update
The Shark Tank Blog constantly provides updates and follow-ups about entrepreneurs who have appeared on the Shark Tank TV show. Once an episode has aired, we monitor the progress of the businesses featured, whether they receive funding or not and report on their progress.
Jeremiah is still working on scaling his business, following the plan he laid out for the Sharks- streamlining the production process to reduce his turn around time. He's also beginning to actively advertise Beloved Shirts, in hopes of doubling his profit margin in the next year. He's proud to employ mostly "independent contractors," a somewhat risky company structure, because it depends solely upon employees who are not necessarily committed to the long-term success of the business.
Will the celebrity attention Beloved Shirts enjoys be enough to keep the brand riding high on the rainbow-spewing unicorn mascot toward success? Only time will tell.
As of January, 2023, the company is still going strong with annual revenue of $4 million.
Posts About Beloved Shirts on Shark Tank Blog
Beloved Shirts Company Information
Video