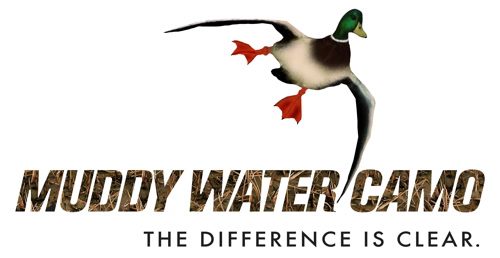 Muddy Water Camo brings waterfowl into the Shark Tank in episode 416. Founders Steve Maloney and Stephen Kirkpatrick developed their line of camouflage duck hunting apparel to mimic conditions found in the marshes and swamps where they do their hunting. Kirkpatrick is an award-winning wildlife photographer who took over 1,000 photographs to perfect the Muddy Water Camo patterns. Along with Maloney, these two "huntrepreneurs" developed a process that allows real terrain photography to be used as realistic, camouflage patterns for their hunting gear. Nearly five years ago, Maloney just wanted better camouflage for when he went duck hunting.  Along the way, he and Kirkpatrick developed a proprietary process to mimic any terrain: marshes, woodlands, meadows, etc; the entrepreneurs plan to pitch the Sharks on licensing their one-of-a-kind, Muddy Water Camo patterns for use on clothing, gear, vehicles, boats, home décor, and other items.
Muddy Water Camo Shark Tank Recap
Steve Maloney and Stephen Kirkpatrick bring Muddy Water Camo to the Shark Tank in hopes of trading 5% equity in their company for a $150,000 investment. Maloney explains that they hope to revolutionize the hunting industry with their innovative new process for creating camouflage patterns.
Kirkpatrick makes an impressive entrance, rising from the demonstration display's marsh area. They present an image of themselves hunting in the marsh, wearing the camo. Kirkpatrick explains that their process is based on actual photography of the terrain the camo would be used in, creating a more realistic pattern to fool wildlife. "Forget the salt water," he quips. "We're going to put the Sharks in Muddy Water."
The pair passes out sample hats to the Sharks. Kevin O'Leary questions whether the camo will be more effective than the current offerings on the market. The pair assures him that it is.
In their first year, the company has sold $150,000. With a valuation of $3 million, the Sharks are unimpressed with the sales numbers so far. The pair has garnered $600,000 in investments so far, in return for 16% of the company. There are 58 retail locations selling Muddy Water Camo, but none of the "big box" hunting stores, yet.
Robert Herjavec doesn't believe the $3 million valuation is fair. He's out.
Lori Greiner believes "you will sell this. This is a great idea," but "You came in asking for too much." She's out.
Daymond John is more direct in his opinion of the valuation. "You are out of your minds." He's out.
Mark Cuban doesn't think 5% is enough. He's out.
Kevin O'Leary believes that they could license the Muddy Camo to a large camo company. He's willing to offer the $150,000, in exchange for 20%. The pair refuse to counter, saying that they won't take a lower valuation. They leave the Tank without a Shark deal.
Muddy Water Camo Shark Tank Update
The Muddy Water Camo partners benefited mightily from their flight through the Shark Tank, even without landing a Shark deal. The exposure from the show helped land them a meeting with Louisiana's governor, Phil Bryant. The pair enjoyed expanded support following the airing, expanding their sales and growing the company. Several large camo manufacturers approached them in hopes of landing a licensing deal.
2015 might have brought muddied waters, however. A lawsuit is rumored to have been filed by Kirkpatrick against the other investors, with claims of being bilked out of his patent. One of the other investors is former baseball player Will "the Thrill" Clark. Muddy Water Camo may face rough sailing, if the owners can't iron out their differences and learn to blend in.
It appears the lawsuit may have been settled as there is nothing out there about it other than the initial filing. The company rebranded to Clear Image Camo in 2106 and that business is defunct as of 2019. On a new Muddy Water Outdoors website, it states "Several years ago, Will [Clark] purchased the majority ownership of Muddy Water Outdoors and has raised the standard for producing quality products for every facet of the outdoor industry." Maloney  still lists himself as president of the company on his LinkedIn page as of January, 2023.  Kirkpatrick doesn't mention the company on his page. Annual revenue is $1-$2 million.
Posts about Muddy Water Camo on Shark Tank Blog
Muddy Water Camo Update Interview
Company Information
Video