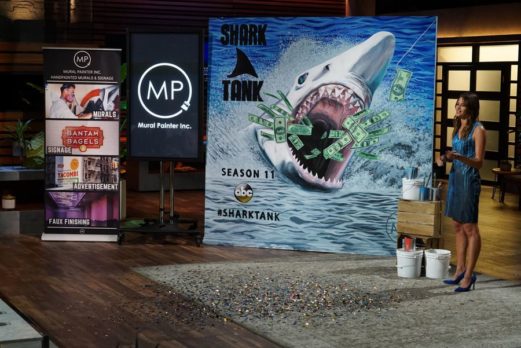 Emily Strauss seeks an investor to grow Mural Painter, her outdoor advertising and mural painting firm, in Shark Tank episode 1121. Originally called Design Team NYC, Mural Painter is a collaborative business that contracts with companies and individuals to create large scale murals both in and outside of buildings. Strauss started the company in 2009 and it has painted over 3000 murals in 27 cities.
The company started in New York City and grew to have offices in New York, LA, Austin and Chicago. They serve clients with their "simple 3 step process." First, clients submit a design, then the team develops a design and a plan, then they start painting. Clients can even hire an artist for a day to decorate for the holidays, for small projects or to touch up existing work.
Pricing varies by project. Obviously a 14 story mural will cost a lot more than a small sign-sized mural. The company uses a mix of artists and project managers to complete jobs. Strauss, a Fashion Design Institute grad, wants to take her company and its processes to more cities. Perhaps a Shark will help her paint the town!
Company Information
Video

Posts about Mural Painter on Shark Tank Blog
Mural Painter Inc – Murals for Any Occasion
Mural Painter Shark Tank Recap
Emily enters the Shark Tank seeking $300,000 for 15% of her business. She explains how she got started and how she suffered from Lyme disease to the point of having to leave high school. When she overcame it, she went on to get her GED and a fine arts degree before starting her business. She focusses on smaller projects bigger mural companies won't take on.
She wants a Shark's help expanding the  business and explains her margins are 40%-50%. She'd also like the Sharks to open some doors to clients for her. Mark and Daymond go out quickly citing the risks. Kevin offers $300,000 for 35% equity. Lori says it's not for her, she's out. Barbara offers $100,000 cash and a $200,000 line of credit for 15%. She says she wants to save Emily from Kevin and she wants Emily to focus more on sales. Barbara says she'll help Emily Structure the business. After some  thought, Emily accepts.
Mural Painter Shark Tank Update
The Shark Tank Blog constantly provides updates and follow-ups about entrepreneurs who have appeared on the Shark Tank TV show. The deal with Barbara never closed. The company has done murals for companies like Netflix, Amazon, Microsoft, Lyft, Etsy, and Facebook. While the Covid-19 pandemic caused a hiccup in her business, she opened a new location in Florida. As of September, 2022, the company is still doing murals (even in the freezing cold) and has annual revenue of $1 million.