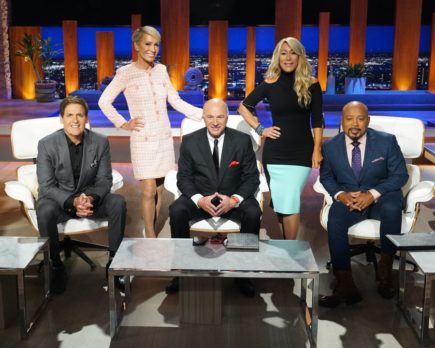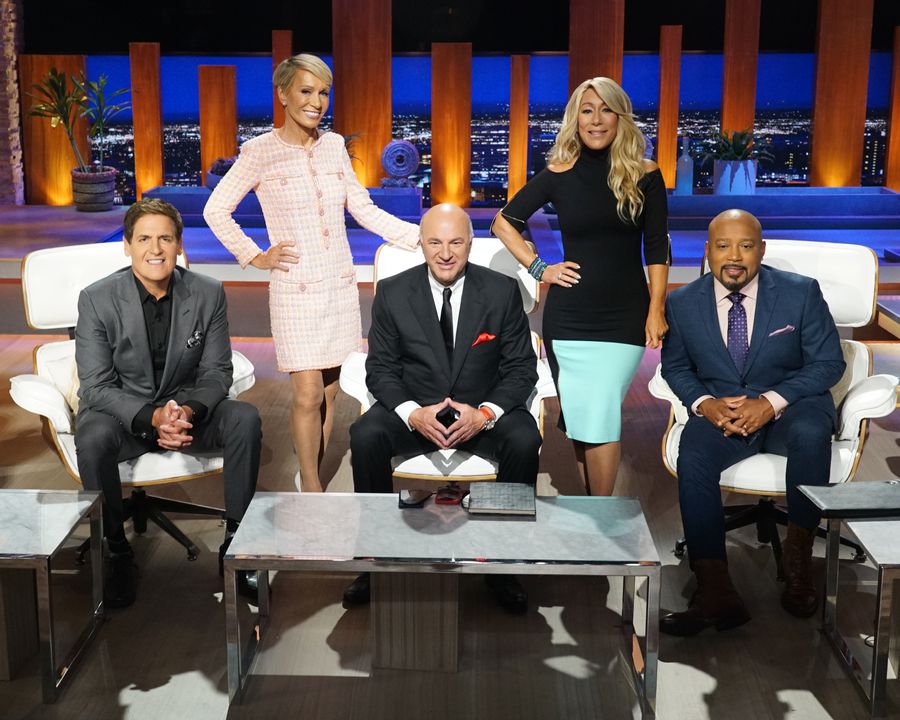 It's another Sharkette special for episode 1121 as Barbara and Lori join Mark, Kevin and Daymond. Together, they'll evaluate four new entrepreneurs seeking to grow their businesses.
Father/daughter team Bob and Mollie Thorsen introduce the Sharks to Little Burros, their award winning line of gardening accessories. Holly Cooper pitches Fried Green Tomatoes, her "secret sauce" and batter mixes inspired by her food truck. Emily Strauss hopes to paint a good picture of Mural Painter, her business that paints murals of all sizes on buildings and homes. Ladonte Lotts gets the Tank "jiggin" when he pitches Jiggaerobics, his fitness program that combines hip hop dance with exercise. Which business nets a Shark tonight?
Tonight's update segment features Chattanooga Christian School senior Connelly Grant, the winner of this year's Shark Tank High School Sweepstakes. Mark, Lori, Daymond, Robert and Kevin visit the school to inspire the students and answer their questions. Ms. Grant also wins a free trip to LA to watch a taping of the show and she'll be appearing on the show at a later date as well.
The Sharks
---
Barbara Corcoran
Daymond John
Entrepreneurs
---
There are 28 Shark Tank Episodes for Season 11. This season features more appearances by "guest Sharks," including billionaire Katrina Lake – Founder of Stitch Fix, Rohan Oza – "Brand Messiah" and founder of Vitamin Water,
Daniel Lubetzky – Founder of KIND, Matt Higgins – Entrepreneur and Miami Dolphins Vice-Chairman,
Maria Sharapova – Tennis Pro and Founder of Sugarpova and Anne Wojcicki – Founder of 23andMe.  Casting is currently closed, but it never hurts to get a head start on season twelve! If you would like to appear on the show, check out our Auditions and Casting information.
Episode 1121 – The Shark Investors and Entrepreneurs
The Shark Tank Episode 1116 entrepreneurs will make their best pitch to the panel of five Shark investors who will use their own money if they choose to invest. The Shark Investors negotiate on the spot without any previous information, which differs from typical negotiations between venture capital investors and entrepreneurial start-ups.
Companies pitching the Shark Investors must go through a rigorous due diligence process before an on-air deal is completed. Shark Tank Blog follow ups help you keep track of the companies that end up successful and the ones that don't complete their deal.
Thank you for reading SharkTankBlog, the number one site for Entrepreneurs, Investors and Fans. Our content updates multiple times day, giving you the latest information on Episode 1121, Season 11, and all other seasons and episodes.
Episode 1121 Press Release
Shark Tank: Episode 1121 (4/17)
April 7, 2020
THE SHARKS GO BACK TO SCHOOL ON A BRAND-NEW EPISODE OF
ABC'S 'SHARK TANK,' FRIDAY, APRIL 17
"Episode 1121" – An entrepreneur from Old Hickory, Tennessee, uses her Southern charm and cooking skills to pitch the Sharks on expanding her fried food empire. A father and daughter duo from Alexandria, Virginia, wheel in their gardening product as they ask the Sharks to help them add to their toolshed of ideas. An entertainer from Baton Rouge, Louisiana, gets the Sharks moving as he showcases his unique approach to exercise classes. Finally, a creative businesswoman from Queens, New York, paints the Sharks a picture of how to grow her service that connects customers with local artists on "Shark Tank," FRIDAY, APRIL 17 (8:00-9:01 p.m. EDT), on ABC. (TV-PG, L) Episodes can also be viewed the next day on demand and on Hulu.
In a "Shark Tank" update, the Sharks go to Chattanooga, Tennessee, to surprise the grand prize winner of the Shark Tank High School Sweepstakes and speak to her entire school, inspiring them to follow their dreams.
The Sharks in this episode are Mark Cuban, Barbara Corcoran, Kevin O'Leary, Lori Greiner and Daymond John.