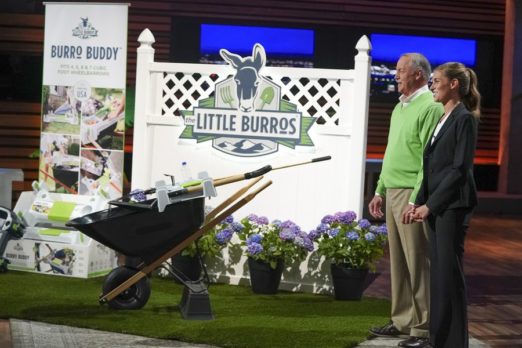 Father daughter team Bob and Mollie Thorsen introduce the Sharks to Little Burros, their line of gardening accessories, in Shark Tank episode 1121. The Little Burro is an attachment for a wheel barrow that holds extra gardening tools, drinks and just about anything else you'd need while gardening. Bob invented the product while helping his wife in the garden. He fashioned a primitive version of the first prototype out of cardboard and duct tape to limit trips back to the garden shed for additional tools.
When he showed the contraption to his kids, they encouraged him to turn it into a real product. Bob and his family own a construction company, so they were no strangers to business. Together, the family enlisted the help of an industrial designer for Little Burros and it quickly became a hit. It won numerous design awards which caused the Thorsens to introduce the Burro Buddy, a more compact version of the original.
On a sad note, the Thorsens lost one of their daughters at the young age of 29. Becca Thorsen was an anti human trafficking activist who was a big supporter of A21, an organization dedicated to abolishing human trafficking. To honor her memory and her passion, the Thorsens donate all of Becca's 10% share in the company to the organization.
As for the products, the original Little Burro is $52.99 and the Burro Buddy is $39.99. They are available on Amazon and at many online and retail home improvement stores like Home Depot, Lowes and ACE Hardware. After Becca's passing, the family pulled back from the company a bit. Now, they're re-injecting life into Little Burros and would like a Shark to help.
Company Information
Video

Posts about Little Burros on Shark Tank Blog
The Little Burro and Burro Buddy
Little Burros Shark Tank Recap
Bob and Mollie enter the Shark Tank seeking $250,000 for 10% of their business. They demonstrate the product and then the questions come. They each give their backgrounds and tell the Sharks about Rebecca. They are doing 2500 units a month in Target, Menards, Ace, True Value and Amazon for total sales for the year (2019) of $400,000.  They cost $10.50 landed, wholesale for $25 and retail for $39.95. They manufacture in the USA. They want the money to start building a gardening tool line. They've put $1 million into the business. Some of the money was put into patents, the rest went into molds.
Barbara says she's never owned a wheel barrow, she uses a bucket; she's out. Mark isn't a gardener; he's out. Daymond likes the product, but doesn't think he could help; he's out. Kevin thinks it fits into his hardware business. He offers $250,000 for a royalty of $7 per unit until he recoups $500,000 and he'll take 7% of the business. Lori offers $250,000 as a loan at 6% interest plus a $5 royalty until she gets her loan money back for 3% equity. Barbara says they should walk away for both deals. When they do walk away, Mark and Barbara cheer.
Little Burros Shark Tank Update
The Shark Tank Blog constantly provides updates and follow-ups about entrepreneurs who have appeared on the Shark Tank TV show. The company started 2020 strong with products available in Sam's Club, Home Depot, Tractor Supply Co. and Amazon. When Covid-19 lockdowns hit, their online sales went through the roof. Sales for the month the episode aired were four times what they were the previous year.
As of June, 2022, the company is doing $1 million in annual revenue. In August, 2022, the company announced it will have its Burro Buddy in over 1200 Lowes stores starting on September 5, 2022. They also announced they will have the Burro Buddy in over 1100 Wal Mart stores in the spring of 2023.