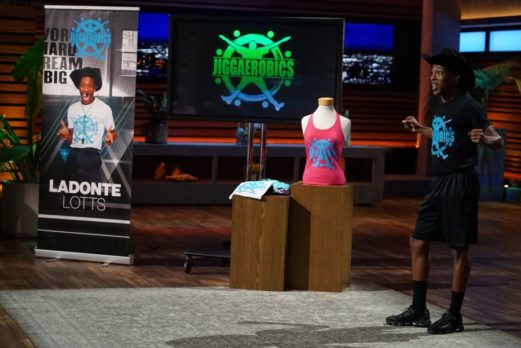 Ladonte Lotts hopes the Sharks like JiggAerobics, his dance fitness program, when he pitches it in Shark Tank episode 1121. Lotts is a certified fitness instructor who started the business in 2015. His classes, events and streaming video content combine "jiggin" and plyometrics for a fun fitness experience.
"Jiggin" is a hip hop dance style popular in Baton Rouge. Plyometrics is "exercises in which muscles exert maximum force in short intervals of time, with the goal of increasing power." Lotts combines the two with hip hop music to create what he calls "fitness parties." He always liked dancing as a child and continued to study choreography as a drum major in the Southern University and A&M College band.
Jiggaerobics offers classes and events at locations all over the south and you can also book them for private events. If you want to stream the exercise routines, a subscription costs $9.99 per month. The current staff includes Lotts and two "master trainers." He wants to take his business global and introduce it in schools as well. Mr. Lotts would love it if a Shark helped him on that journey.
Company Information
Video

Posts about Jiggaerobics on Shark Tank Blog
Jiggaerobics Shark Tank Recap
Ladonte enters the Shark Tank seeking $50,000 for 12% of his business. He gives his pitch, then invites the Sharks onstage to give it a try. They do their dance, then get down to business. Sales in his first year are $62,000. He wants to expand the business by training and licensing instructors and charging them a monthly fee. Ultimately, none of the Sharks feel that they can add any value and LaDonte leaves with no deal.
Jiggaerobics Shark Tank Update
The Shark Tank Blog constantly provides updates and follow-ups about entrepreneurs who have appeared on the Shark Tank TV show. This episode aired in May, 2020, at the height of the Covid-19 pandemic. LaDonte was forced to do "Virtual Fitness Parties" which were successful. Since coming out of the pandemic, LaDonte focusses on doing classes for schools and community organizations rather than going worldwide. As of August, 2023, he's still in business and "gettin jiggy with it." Annual revenue is less than $1 million.