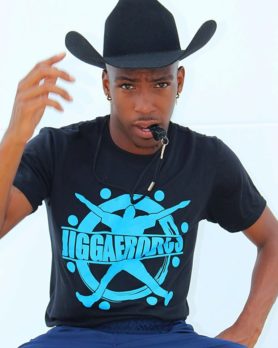 Ladonte Lotts was a dancer and entertainer long before he started Jig Aerobics, his dance/fitness program that he's pitching in the Shark Tank. As a child, he took dance lessons from a very young age. When he got older and went off to college, he was a drum major at Southern University and A&M College and helped choreograph routines for them. He also liked "jiggin," a form of hip hop dance made popular in his native Baton Rouge.
Ladonte started Jig Aerobics while still in college back in 2015. He calls his classes and events "fitness parties." He fuses modern hip hop with jig dancing and polymetric exercise which works muscles in short intervals. He has two instructors working for him and they travel around doing fitness events. In light of the current Covid-19 lockdowns, he has no events currently scheduled but he's offering his Jig Aerobics classes online via a streaming format for $9.99 per month on a subscription basis.
Ladonte hopes, once the lockdowns end, that he can expand his number of instructors and the geographic reach of his events and classes. He's also exploring creating a fitness curriculum for schools. People seem to love his energetic brand of fitness and he hopes a Shark can help him bring it to more people in the future.
My Take on Jig Aerobics
I attend a gym regularly and do a fair amount of walking. I'm not ripped like Ladonte, but I'm in pretty good shape for a guy my age. I never was one for dancing – for exercise or fun – as I have two left feet. I'm not the type to participate in a fitness class, but my wife likes them.
I can see how people would like these classes. It's basically the old Jazzercize type of workout set to a more modern beat with a different dance approach. Ladonte has the energy and he is growing his list of fans and participants. It's not for me, but I think he will do well.
Will Sharks do a Jig?
It seems like there is some sort of fitness program appearing once or twice every season on Shark Tank. Each business offers a new twist on an old concept. In earlier seasons, these types of businesses had some success (Surfset Fitness, Dance with Me, Cowboy Ryan), but in recent seasons, the Sharks have passed on these businesses.
One reason may be the Sharks are standing pat with their current fitness businesses. The other is the more telling reason. In the past, Daymond (who invested in Cowboy Ryan and Dance with Me) stated that these kinds of businesses are "a lot of work." The Sharks want to invest in things they can scale quickly, and businesses like this take too much time.