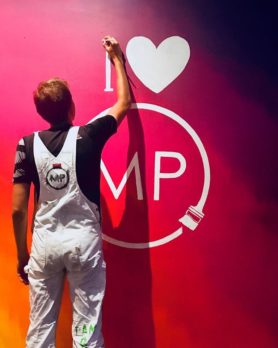 Emily Strauss got her education in the fine arts, which certainly helped her with Mural Painter Inc. She'll be pitching this unique business to the Sharks in episode 1121. She graduated and started her entrepreneurial career with Design Center NYC – the company that eventually became Mural Painter Inc.  She also runs Vandalize Apparel, a hand painted clothing business.
But she's in the Tank for her mural business. It's a unique blend of art and advertising. If you've ever seen a huge mural painted on the side of a building and wondered who painted it, it may have been Emily's company. They've painted over 3000 murals all over the country. They originally started in New York City and then branched out to a Los Angeles office as well.
Much of the secret sauce comes in the design and project management phases of a project. Clients submit design ideas to the design team. Once a design is decided upon, the project manager plans it, then the painters go out and paint it. Mural Painter Inc does everything from small, sign-sized murals for storefronts to huge, multistory murals that cover entire buildings. The business is duplicatable and Emily would like to go international – with a Shark's help.
My Take on Mural Painter Inc
I've seen big murals on buildings, as most people have. They are eye catching when done well and can convey a brand or company image for years. It's an effective form of outdoor institutional advertising. Some of Emily's clients include private condos and coops that want ann aesthetic image without any branding too. But the big bucks is in the big companies that will spend.
I'd probably never use such a service – it's more of a B2B business. But I like the murals. Peruse the company Facebook or Instagram accounts and they're filled with beautiful images. Her company does good work, but is it a Shark-like business?
Will Sharks Invest in Murals?
This looks like a successful, well executed business, but I don't think a Shark invests. The reason is twofold. One, it's not proprietary. There are many other mural painter companies and independent painters in every major city competing for business. Two, it's service oriented meaning it's the people who work at the company that provide value. Should some of them leave, it could effect the bottom line.
I believe it's a good business, but I think the Sharks stay away for the aforementioned reasons. If Emily is lucky, she may get a few deals out of Barbara's connections and through Mark's sports network, but I don't think she gets an investment.