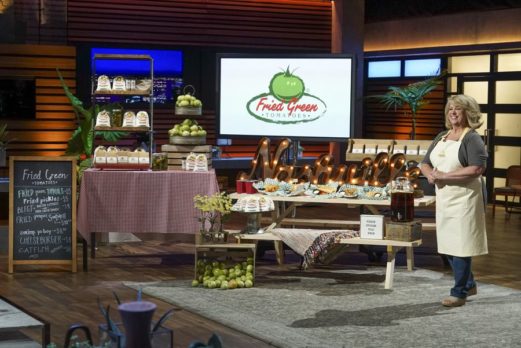 Holly Cooper wants the Sharks to get a taste of Fried Green Tomatoes, her batter mixes and "secret sauce" inspired by her food truck, in Shark Tank episode 1121. Cooper, a food industry veteran of over 18 years,  got started in the food truck business back in 2012 and began selling southern comfort food: Po Boys, catfish, fried pickles and, of course, Fried Green Tomatoes. She takes her business on the road to fairs and festivals all over the southeastern USA.
In her travels, people always raved about two things: her fry batter and her "secret sauce." Folks kept asking for the recipes, but Cooper wasn't about to give away her secrets. Instead, she decided to package the batter mix for her fried pickles and Fried Green Tomatoes as well as a sauce mix to make "secret sauce." The sauce gets mixed with a cup of mayo and a cup of sour cream.
She sells her wares online on her website and at hundreds of small grocers and gift shops in 48 states, Canada and Mexico. The batter mixes cost $9.99 and the sauce mix is $3.99. Cooper still travels with her food truck, too. Wherever she goes, long lines ensue. She's hoping a Shark will help get her into national grocers.
Company Information
Video

Posts about Fried Green Tomatoes on Shark Tank Blog
Fried Green Tomatoes Shark Tank Recap
Holly enters the Tank seeking $200,000 for 15% of her business. She tells her story and gives her pitch then hands out samples. The Sharks love it. So do a lot of other folks; her food truck does $600 to $800 an hour at events, plus she has her batter and sauce mixes. Last year (2018), she did $268,000 in product sales. The Sharks aren't impressed with those numbers, but Holly tells them she just bought another food truck for daily sales. Her ultimate goal is to franchise.
Barbara is interested right off the bat. Touting her success with Cousins Maine Lobster, she offers $200,000 for 30%. Mark tells her to take the offer. Daymond then offers $200,000 for 25%. She ultimately accepts Barbara's deal due to the success of Cousins Maine Lobster.
Fried Green Tomatoes Shark Tank Update
The Shark Tank Blog constantly provides updates and follow-ups about entrepreneurs who have appeared on the Shark Tank TV show. The deal with Barbara never closed.  Holly faced a lot of issues during the 2020 Covid-19 pandemic but she made her way through it. In June, 2021, she announced the opening of a brick and mortar "drive-in lunch spot" in Lebanon, TN would be opening "soon." As of August, 2022, the brick and mortar store has yet to open. Annual revenue is less than $1 million.