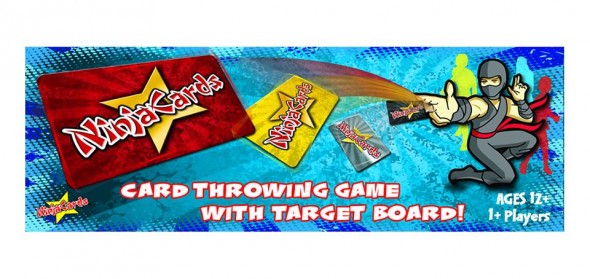 Dustin Berk and Ken Haton throw their cards on the table when they pitch Ninja Cards, a darts-like card throwing game, in Shark Tank episode 603 on October 3, 2014. The two men "invented" the game back in 2009 when they were throwing their hotel key-cards at bottles to pass the time in their room. They had so much fun, they created a game out of it, complete with a target board.
Ninja Cards come in packs of 15 and can be purchased separately or with the aforementioned target board. They even offer custom designed cards and boards for special events. The cards themselves are collectible and they have an APP in the works that lets people scan their Ninja Cards to earn points toward free merchandise.
The Ninja Cards guys, from the look and feel of their website and social media pages, are just getting started. They likely want a Shark to help them with distribution and cash for production. Will these ninjas target a Shark successfully?
Ninja Cards Shark Tank Recap
Dustin and Ken enter in full Ninja gear and ask for $60K for 30% of their business. They reveal an Ninja Cards target board and start flinging cards at the dart board. Robert and Mr. Wonderful then come on stage and try the game while the guys educate them on throwing technique. They reveal a special board with the Sharks as targets. Mr. Wonderful wins the game.
They hand out a board to the Sharks and reveal they sold 100 units in one year, then signed an exclusive license agreement, with a 5% royalty, but the company who licensed with them bailed out. The rights returned to the Ninja guys at the end of 2013 and they haven't obtained any other deals. They haven't produced more units however.
Mark goes out. Robert doesn't think they're hustling enough, he's out. Lori thinks it's clever, but she thinks they aren't enterprising enough, so she's out. Daymond doesn't like the toy business, so he's out. Sensei Wonderful tells them to go behind the dojo and put a dart in it, he's out too. NO DEAL.
Ninja Cards Shark Tank Update
The Shark Tank Blog constantly provides updates and follow-ups about entrepreneurs who have appeared on the Shark Tank TV show. Dustin and Ken have moved onto other ventures but Ninja Cards are still in business as of August, 2021. Annual revenue is $100,000. In April, 2022, the guys listed the business closing down in 2018, but the website is still live. Some products are available and others are listed as "sold out" and "back in stock February, 2022.
Posts About Ninja Cards on Shark Tank Blog
Company Information
Video