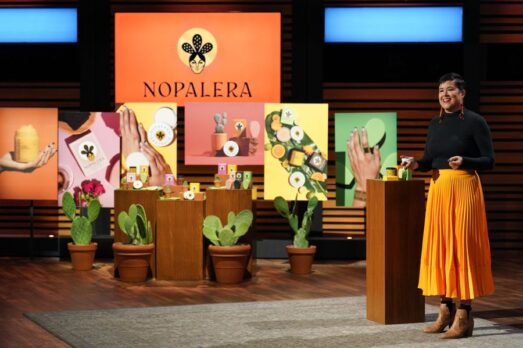 Sandra Velasquez pitches Nopalera, her line of skin care products derived from nopal, the prickly-pair cactus, in Shark Tank episode 1412. Nopalera is the second cactus based product to appear in the Tank. In season 13, Barbara did an on air deal with Pricklee, a cactus based beverage. The reason the prickly pear cactus is so good for you is it's loaded with vitamins A and C and it has anti-inflammatory, antioxidant, and antimicrobial properties. The cactii are also one of the most sustainable crops on earth.
Velasquez, who is of Mexican heritage and has a background in sales, wanted to create a brand that celebrates her Latino heritage while creating clean, sustainable products. She started the business out of her Brooklyn apartment in November, 2020 in the midst of the Covid-19 pandemic. There are six products in the line: Cactus Soap, Moisturizing Botanical Bar, Cactus Flower Exfoliant, Cleanse + Scrub + Moisture Set, and Soap + Bar Duo. Prices range from $14 for a bar of soap to $71 for a set of different products.
The company got started selling direct to consumer through Facebook and Instagram ads in the southwestern USA where there is a large Latino population. She grew from there by acquiring emails and keeping in touch with her audience. Things got busy for her from there. She won numerous awards like the Target Takeoff Beauty Cohort, 2022, Latino Start Up Of The Year at Match-Up, 2022 and many more. The products are in over 600 boutiques and she launched in Nordstrom in March, 2022. In October, 2022 – after taping the Shark Tank segment – the company secured $2.7 million in seed funding from a variety of sources. Sandra likely wants a Shark's help expanding her retail presence nationally.
Company Information
Video

Posts about Nopalera on Shark Tank Blog
Nopalera Shark Tank Recap
Sandra will pitch the panel of five Sharks on the business and its prospects for growth. She'll need to convince Mark Cuban, Daymond John, Kevin O'Leary, Lori Greiner and guest Shark Daniel Lubetzky that the company is worthy of a Shark investment. A good business plan, good financials, and sales data will impress the Sharks, but she'll need to show them SHE is capable of running the company to "Shark standards." A full pitch re-cap on Nopalera will be available on Shark Tank Blog once this episode airs.
Nopalera Shark Tank Update
The Shark Tank Blog constantly provides updates and follow-ups about entrepreneurs who have appeared on the Shark Tank TV show. Once an episode has aired, we monitor the progress of the businesses featured, whether they receive funding or not and report on their progress. The Shark Tank Blog will follow-up on Nopalera & Sandra Velasquez as more details become available.