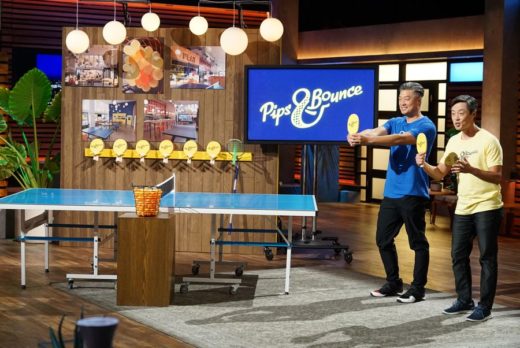 Eugene and Michael Jung seek an investor for Pips and Bounce, their ping pong "lounge" and pop up ping pong party business, in Shark Tank episode 1113. The Jung brothers grew up playing ping pong in their parents' basement and, when they grew up and moved to Portland, they missed the fun they used to have playing. When they realized there was no suitable public place to play ping pong for fun, they started throwing pop up ping pong parties around Portland, Oregon in 2012.
The parties were a big hit and earned Pips and Bounce the moniker of "the food truck of ping pong." Like many successful food trucks, they wanted a permanent location for their business. They got their brick and mortar location opened with some help from the Kickstarter community when they raised $51,059 back in December of 2014. The location, just like the pop up parties, was an instant success.
People can stop in to Pips and Bounce and play on one of their ten tables for $16 per half hour. While there, they can dine on a variety of bar food-like appetizers or enjoy one of their "pongtails." The business also does parties, corporate events, fundraisers and other group ping pong activities in their 1500 square foot private event room.
They specifically designed the space to mimic a "retro-basement-rec-room." There's a full bar and kitchen, too. The Jungs basically emptied their bank accounts and uprooted their lives to start the business – along with the Kickstarter funds. Now, they're looking to expand the concept, with a little help from a Shark.
Company Information
Video

Posts about Pips and Bounce on Shark Tank Blog
Pips & Bounce – Ping Pong Parlor
Pips and Bounce Shark Tank Recap
Eugene and Michael enter the Tank seeking $500,000 for 10% of their business. As they explain their model and plans for franchising, the Sharks express concern. They think the business is too new to provide proof of concept. When they learn their profit margin is just 7%, the Sharks feel the men are "too early." Profits need to be at least twice that for the business to appeal to an investor. One by one, the Sharks all go out.
Pips and Bounce Shark Tank Update
The Shark Tank Blog constantly provides updates and follow-ups about entrepreneurs who have appeared on the Shark Tank TV show. This business continued to operate until the Covid-19 shut downs. A second Minneapolis location was set to open, but they cancelled plans for that due to the pandemic.They planned to re-open in July, 2020 but changed their minds. According to their Facebook page: "after looking at the still-alarming public health data, we realize that we need to be part of the solution, not the problem." As of August, 2020, the business remains closed.
Eugene actually took a job at an Amazon fulfillment center. He only lasted for two months. While there, he noticed people bought a lot of pet food and coffee online. Since he knew nothing about either, he decided to start a coffee business – because at least he liked coffee. He bought a small coffee roaster and started Skaut Coffee Roasters. He wanted something where the barrier of entry doesn't require too much initial capital investment.
As of March, 2021, they were waiting for their liquor license renewal permit. According to their Yelp page, the business is finally set to re-open on July 15, 2021.