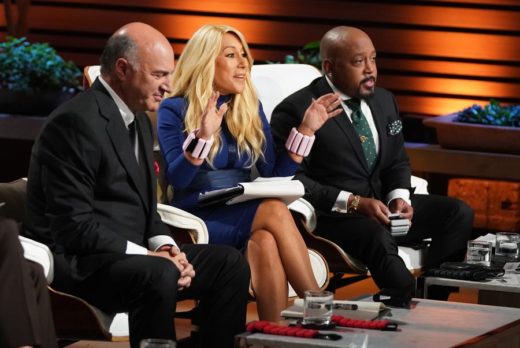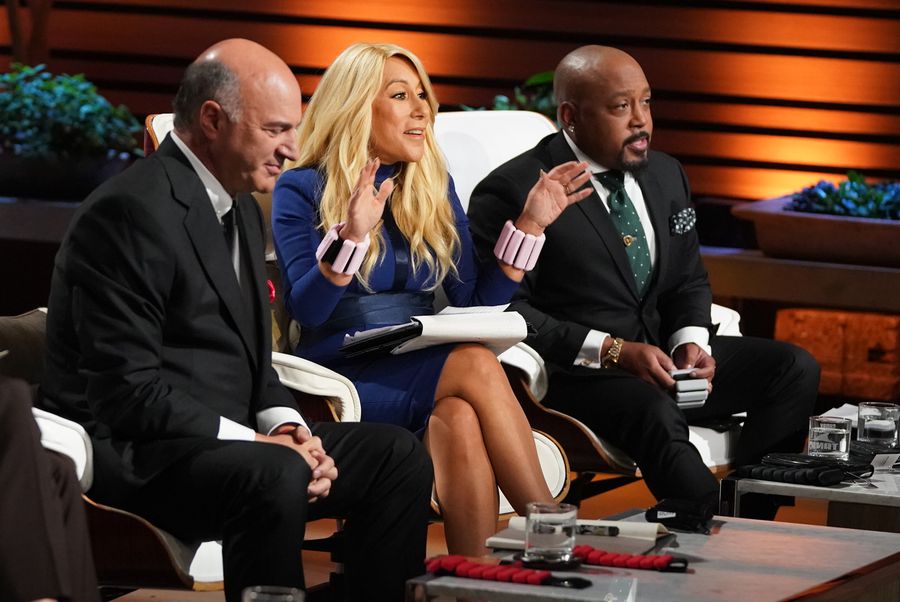 Shark Tank episode 1113 has the show returning to Friday nights for the first time in several years. Tonight's "guest Shark," Maria Sharapova joins Mark, Daymond, Kevin and Lori in evaluating four new businesses seeking to partner with a wealthy Shark.
Eugene and Michael Jung hope to expand Pips and Bounce, their ping pong centric bar/lounge that morphed out of a successful pop up party business. Laura Schubert and Lillian Tung want a Shark to invest in Fur, their line of intimate grooming products for the female nether regions. Husband and wife entrepreneurs and yoga enthusiasts Max Kislevitz and Natalie Holloway seek a Shark to help them grow Bala Bangles, their line of stylish wrist and ankle weights for exercising. Successful pet food entrepreneurs AJ Crook and Brett Maiolfi hope to get a deal for Shake It Pup, their line of dog food seasonings that also have nutritional supplements. Which business(es) land a deal tonight?
Tonight's "update segment" features tennis star turned entrepreneur Maria Sharapova's story of her brilliant athletic career and her business successes.
The Sharks
---
Daymond John
Maria Sharapova
Entrepreneurs
---
Update Segment – Profile on Guest Shark Maria Sharapova
There are 28 Shark Tank Episodes for Season 11. This season features more appearances by "guest Sharks," including billionaire Katrina Lake – Founder of Stitch Fix, Rohan Oza – "Brand Messiah" and founder of Vitamin Water,
Daniel Lubetzky – Founder of KIND, Matt Higgins – Entrepreneur and Miami Dolphins Vice-Chairman,
Maria Sharapova – Tennis Pro and Founder of Sugarpova and Anne Wojcicki – Founder of 23andMe.  Casting is currently closed, but it never hurts to get a head start on season twelve! If you would like to appear on the show, check out our Auditions and Casting information.
Episode 1113 – The Shark Investors and Entrepreneurs
The Shark Tank Episode 1113 entrepreneurs will make their best pitch to the panel of five Shark investors who will use their own money if they choose to invest. The Shark Investors negotiate on the spot without any previous information, which differs from typical negotiations between venture capital investors and entrepreneurial start-ups.
Companies pitching the Shark Investors must go through a rigorous due diligence process before an on-air deal is completed. Shark Tank Blog follow ups help you keep track of the companies that end up successful and the ones that don't complete their deal.
Thank you for reading SharkTankBlog, the number one site for Entrepreneurs, Investors and Fans. Our content updates multiple times day, giving you the latest information on Episode 1113, Season 11, and all other seasons and episodes.
Episode 1113 Press Release
Shark Tank: Episode 1113 (2/28)
SHARK TANK RETURNS TO FRIDAY NIGHTS
WITH BRAND-NEW GUEST SHARK INTERNATIONAL TENNIS CHAMPION AND FOUNDER OF SUGARPOVA, MARIA SHARAPOVA, ON FRIDAY, FEB. 28
"1113" – A husband and wife duo from Los Angeles, California, pitch their stylish weighted design that adds a constant but comfortable resistance to your workout. Entrepreneurs from Sunset Beach, California, try to get the Sharks to bite on their product that eliminates bland dog food and will get dogs excited to eat; while brothers from Portland, Oregon, seek an investment for their event space that features an American family-favorite game. Finally, entrepreneurs from New York City introduce their multipurpose hair and skin-softening product for the nether regions, on "Shark Tank," FRIDAY, FEB. 28 (8:00-9:01 p.m. EST), on ABC. (TV-14) Episodes can also be viewed next day on demand and on Hulu.
The Sharks in this episode are Mark Cuban, Kevin O'Leary, Lori Greiner, Daymond John and guest Shark Maria Sharapova.