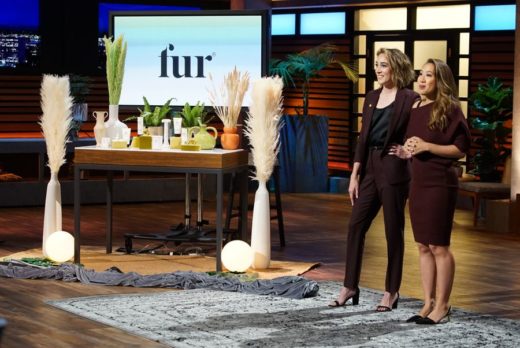 Laura Schubert and Lillian Tung want a Shark to invest in Fur, their pubic hair care cosmetic company, in Shark Tank episode 1113. The two women have been friends since middle school and went to college and grad school at Columbia together too. After discussing the trials and tribulations of grooming pubic hair with her sister back in 2014, Laura sensed a business opportunity and began exploring products that help with conditioning and soothing hair in the nether regions. She started making phone calls and was treated as if she were making prank calls.
When she settled on a formula for her "intimate hair care" line, she knew who to call. At the time, Laura was a consultant at Bain Capital and Lillian was working at L'Oreal. The two friends got together and started Fur. The original product was Fur Oil, a mixture of grape seed oil, jojoba oil, clary sage oil and tea tree oil that helps prevent ingrown hairs on those who shave their pubic hair and conditions hair for those who prefer a more "natural look."
The product line, along with the popularity of the idea of "intimate grooming," has expanded. In addition to the original oil, they now make stubble cream (to prevent ingrown hair), bath beads, shaving cream, scrubs, wipes and more. Fur's original oil sells for $28 for a 14 ml bottle. They sell on their Amazon store and on their website. The women likely want a Shark's help with broader retail distribution and marketing. Will a Shark want to have Fur?
Company Information
Video

Posts about Fur on Shark Tank Blog
Fur Oil – For Grooming Pubic Hair
Fur Shark Tank Recap
Laura and Lillian enter seeking $500,000 for 2.5% of their business. They explain their business and hand out samples. The Sharks like their sales: $5 million in the past year; but they don't like the valuation. They women further explain their product went viral after actress Emma Watson endorsed it.
Despite the valuation, some Sharks are interested. Daymond offers $500,000 for 15%. Kevin offers $500,000 for 2.5% but he wants a one dollar per bottle royalty until he recoups $1 million. Lori offers $500,000 for 12% but she also wants a portion of each sale to go to a newly created charity that helps people feel good about their bodies. Lori also offers $50,000 in seed money to start the charity. After negotiating the percentage down to 8%, the women do a deal with Lori.
Fur Shark Tank Update
The Shark Tank Blog constantly provides updates and follow-ups about entrepreneurs who have appeared on the Shark Tank TV show. Fur saw their sales jump after they aired, but the deal with Lori never closed. The company is still in business and you can buy their products on Amazon.
As of March, 2020 the ladies managed to get their product on the shelves at Goop, Revolve, Neiman Marcus, Credo, Free People and Urban Outfitters. As of April, 2023, they were doing $5 million in annual revenue.