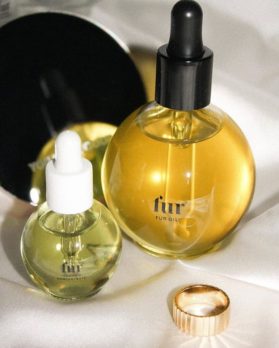 Fur Oil is the creation of life long friends Laura Schubert and Lillian Tung. Laura initially came up with the idea in 2014 while chatting with her sister about grooming pubic hair. She sensed a need in the marketplace and, after doing some research, convinced herself there was. After a lot of phone calls, she finally connected with a cosmetics manufacturer to make Fur Oil.
The product conditions hair in the nether regions and skin for those who bare it all and shave. The business has grown from the one product to include creams, bath oils, scrubs and more. Every Fur product is all natural. The original oil contains grape seed oil, jojoba oil, clary sage oil and tea tree oil. The result is a luxurious bush that's soft and fragrant!
The products are available on Amazon and through the company's website. While Fur Oil was one of the first companies to market products for pubic hair conditioning, they spawned a lot of competitors. It takes a specal entrepreneur to recognize an untapped market, especially one as obscure as this one! Laura and Lillian hope a Shark will see their wisdom and join them on their journey to make sure no bush goes ungroomed.
My Take on Fur Oil
This is something I'd never use. Talk about "first world problems!" While some people think perfectly groomed pubes is a must, I am not one of them. I get that some women are vain enough to actually care about this stuff, so Fur will likely sell well to that crowd.
I think this pitch will be somewhat comical. There are plenty of double entendre opportunities that some of the Sharks will jump on. This may be a good business, but the product is not for me.
Will Sharks Soften Up and Invest?
I can't see the guys going for this one. It's just too feminine for them to add any value. I totally see Mr. Wonderful making some quips about it. Maybe "are you FUR REAL?" If any Shark bids, it will be Lori or Maria Sharapova.
Lori could make a QVC special about this. Cosmetics and beauty products do well on QVC. Maria might have interest too, but her investing style is still a big unknown.