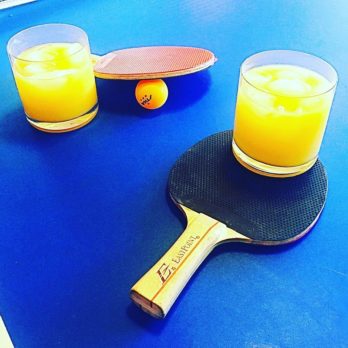 The Jung brothers – Eugene and Michael – started Pips & Bounce out of their life-long love of ping pong. They grew up playing in their basement with family and friends, but after they left home to start careers, their access to ping pong dwindled, but their love of the game was still strong.
As adults, they lived on opposite coasts – Eugene in New York City and Michael in Portland, Oregon. Eugene told Michael about ping pong tournaments at a friend's house. That friend eventually opened a brick and mortar "ping pong parlor." When Michael heard that, he decided to start throwing pop-up ping pong parties in Portland back in 2012. The concept was an instant success with a little over 200 people showing up at the first event. He decided to make ping pong his business and Eugene packed up and headed west to join him in the venture. They decided to call the business Pips & Bounce (pips are the little rubber bumps on a ping pong paddle).
A year and a half after the first event, the brothers wanted to open their own brick and mortar ping pong establishment. With a bunch of their own money and $51,059 raised on Kickstarter, their dream became a reality. Pips & Bounce features ren ping pong tables with a private party room. They have a bar and food service too. for sixteen bucks, patrons play ping pong in the "retro basement" space while sipping cocktails and munching on appetizers. Hard core ping pong enthusiasts can purchase an unlimited monthly membership for $49 a month.
The business has been a big success for the Jungs and now they want to expand, either through franchising or through adding more locations. That takes cash and some Shark-like savvy. The Jung brothers hope a Shark will want to bounce an investment their way when they appear in episode 1113.
My Take on Pips & Bounce
I love ping pong. Like the Jungs, I grew up with a table in our basement and played frequently with my friends and family. Every family get together featured an after dinner ping pong tournament. I don't have a table of my own any more, but a friend of mine does and we usually play a few games when we go over to their house.
If I had a Pips & Bounce in my city, I'd probably go. My wife and I get together with friends once a month or so to play table top shuffle board at a local bar. We'd definitely go to a ping pong based bar to play. I think the Jungs have a very cool business. I am in.
Will Sharks Play Ping Pong?
This is a very unique business – unlike anything the Shark Tank has ever seen. There have been plenty of successful restaurant concepts, but never one that revolved around ping pong. It's a little bit ironic the Jungs are pitching when Maria Sharapova is a guest Shark. As a tennis legend, she could add some serious credibility to Pips & Bounce.
As for the other Sharks, it will likely come down to the numbers and the Jung's specific plans for expansion. Franchise concepts have fared well in the Tank and a solid company would attract bids. Sadly, Barbara – who has several franchise deals under her belt – is not on the panel tonight. She would be the perfect partner. I don't think Lori or Daymond go for this, but Mark and Kevin might. Sharapova is the wild card.