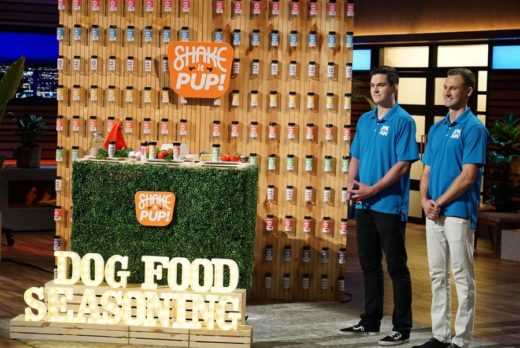 AJ Crook and Brett Maiolfi hope to spice up the Tank with Shake It Pup, their line of dog food seasoning, in Shark tank episode 1113. Crook and Maiofli are no strangers to the pet food business. They created Snap Wag, a small batch, craft dog food business, in 2016. They wanted to offer dog owners the best in taste and nutrition for their pets. Even though Snap Wag foods are top-notch, dogs still grew tired of "the same old thing" every day.
In order to spice things up a bit for their canine customers, they developed Shake-It-Pup, easy to use, dry dog food seasoning for use on ANY dog food. The seasonings are human food grade flavorings that add taste and nutrition to dog food. Each bottle has different flavors and nutritional supplements that keep Fido happy and healthy at mealtime. Simply sprinkle a little seasoning on dry or wet dog food, add a little water (or not), and watch your best friend devour their food.
The Shake It Pup seasonings come in ten flavors: Bae'con and Eggs, Barkin BBQ, Slammin Salmon, Turkey Feast, Pizza My Heart, Peanut Butter Belly, Charcuterie, Digestion Power Broth, Bone & Joint Power Broth and Skin & Coat Power Broth. Each 4.5 ounce bottle of seasoning costs $12.99 and you can buy them on Amazon or the company website. While the two dog lovers have plenty of experience building a pet food business, they probably want a Shark's help getting into retail in a product space that's currently non existent. Will a Shark think this deal has the right flavor?
Company Information
Video

Posts about Shake It Pup on Shark Tank Blog
Shake-It-Pup – Dog Food Seasonings
Shake It Pup Shark Tank Recap
AJ and Brett enter seeking $100,000 for 10% of their business. They explain the products and hand out samples. The Sharks know people will spend money on their pets and they appear interested. Since starting the company a year ago (as of the taping date), they've done $105,000 in sales. The guys want a Shark's help to help with inventory and with finding a co-packer.
Kevin thinks they have issues with their marketing and he offers $100,000 for 50%. Lori offers $100,000 for 3%, but she wants a $1.00 per bottle royalty until she recoups her investment. After that, she wants 25 cents per bottle as a royalty in perpetuity. Mark offers $100,000 for 25% and touts his successful dog food company, Wild Earth. They accept Mark's offer.
Shake It Pup Shark Tank Update
The Shark Tank Blog constantly provides updates and follow-ups about entrepreneurs who have appeared on the Shark Tank TV show. The deal with Mark did not close, but there is something fishy going on. In July, 2021, AJ Crook left the company. Brett Maiolfi rebranded the company to Snap Wag, a company he's listed as owning since 2016. The company is out of business and no longer sells on Amazon, They have no functioning web site or social media as of October, 2021. Even Brett's Snap Wag site is dark. It's safe to say they're done.