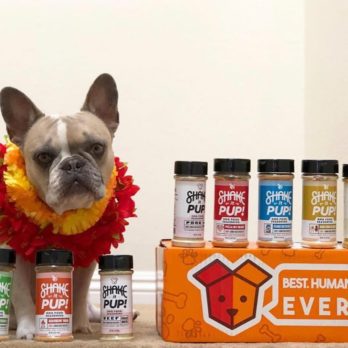 Before creating Shake-It-Pup, AJ Crook and Brett Maiolfi were no strangers to the dog food business. In 2016, they launched Snap Wag, a successful craft dog food business. They make and sell high quality dog food in small batches. Shake It Pup morphed out of that business.
Shake-It-Pup is a line of dog food seasonings with nutritional supplements mixed in. They're designed to add flavor to dog food to give your best friend a little variety at meal time. When you sprinkle some seasoning on any dog food – wet or dry – dogs gobble up their food. Dogs, just like people, grow bored of the same thing every day. A little Shake-It-Pup mixes things up for them.
Some people use freeze dried toppings on regular dog food. These can be expensive. Table scraps liven things up too, but some dogs will turn their nose up at dog food if given too many scraps. With ten different flavors, Shake It Pup gives variety without worry. There's plenty of choices: Bae'con and Eggs, Barkin BBQ, Slammin Salmon, Turkey Feast, Pizza My Heart, Peanut Butter Belly, Charcuterie, Digestion Power Broth, Bone & Joint Power Broth and Skin & Coat Power Broth.
They sell their wares on the company website and on Amazon. Each bottle costs $12.99 and has 30-60 servings, depending on how much flavor your dog desires. The seasonings are all natural, human grade and spice things up for your dog with no fillers or added fats. AJ and Brett likely want a Shark's help getting into pet stores. Will a Shark spice up a deal and invest?
My Take on Shake-It-Pup
I have a dog, in fact I've had dogs most of my life. She gets a variety of dry food – I get a different kind every time I buy dog food. I lean towards the more quality brands and my dog, an American Bulldog, pretty much gobbles up anything we put in front of her. She gets beef bones several times a week and we mix in table scraps with her food on a regular basis. She's definitely not finicky, but our friends have a picky eating dog.
I think the idea of nutritionally supplemented seasonings for dog food is excellent. It's definitely something I'd get my Zoey, which would further support my wife and daughter's claim that I spoil the crap out of her. That's the point though, people like to spoil their dogs. This is why I think it's an excellent idea.
The one problem I have is the price. They claim Shake-It-Pup is human grade. At $12.99 for a 4.5 ounce bottle, it's 2-3 times more expensive than actual human seasonings in the grocery store. I know – I have about 100 bottles of spices and seasonings! Perhaps the added vitamins add to the cost, but I don't care, I'm going to try a bottle. I'm in.
Will Sharks Shake Up a Deal?
Aj and Brett have one big thing going for them: there's not a lot of competition in the dog food seasoning space. The few other products like theirs are similarly priced, too. If they have good numbers, they may attract a bid or two. My bet is Daymond will bid. He's had some success with pet related businesses and this business is fairly simple. Other Sharks may bid, but my money is on Daymond.