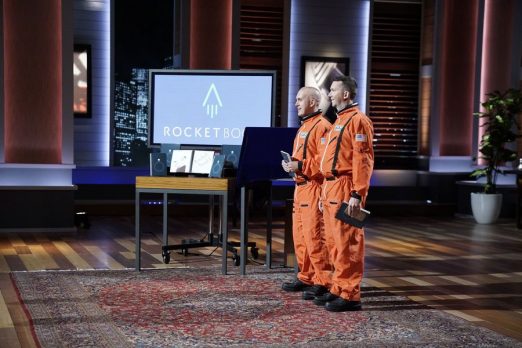 Jake Epstein and Joe LeMay hope to launch Rocketbook with a Shark's investment in episode 826. The Rocketbook is simply a notebook that you use like a regular notebook, but everything in it gets uploaded to the cloud with an accompanying smart phone APP. The version they pitch in this episode erases by going into the microwave!
There are now two versions of Rocketbook. The Rocketbook Wave Notebook is presented on Shark Tank. In August, 2016, Epstein and LeMay raised over half a million bucks on Kickstarter to get the product off the ground. Since then, they did another Kickstarter for their Everlast Notebook which erases with a drop of water; that one raised over $1.8 million!.
Rocketbooks send your drawings, writing, and notes to the cloud where you can set them up to go to document management programs like Google Drive, Dropbox, and Evernote. In order for the "eraser" to work, you need to write with a Pilot Frixion pen (included with each purchase). At only $27, it's an inexpensive alternative to using a tablet for notes. They likely want a Shark to help accelerate production. Will a Shark blast off with this business?
Rocketbook Shark Tank Recap
Jake and Joe enter seeking $400,000 for 10% of their business. They demonstrate it and ask Robert to put it in the microwave for them while they hand out samples. They've sold $2.2 million which makes the Sharks take them seriously. When the microwave is done, they show the Sharks the book is now empty.
Barbara thinks it's gimmicky and goes out. Robert likes the idea but goes out because he thinks other Sharks are interested. Kevin is focused on the reusability – he wants to sell people another notebook; he's out. Lori thinks the idea will fizzle out and she goes out. They tell Mark they want to develop digitally-enabled paper and office products and Mark laughs. He's out too.
Rocketbook Shark Tank Update
The Shark Tank Blog constantly provides updates and follow-ups about entrepreneurs who have appeared on the Shark Tank TV show. Jake and Joe had the last laugh. After developing several new versions of the rocket book, including one that could be erased with a moist cloth, the company was acquired in December, 2020 by pen maker BIC for $40 million!
Posts About Rocketbook on Shark Tank Blog
Rocketbook Company Information
Video