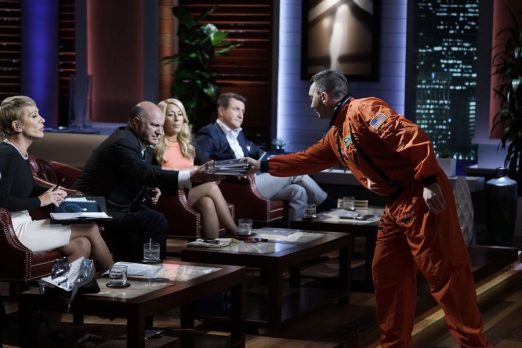 Jake Epstein and Joe LeMay bring the common spiral-bound notebook to the cloud when they pitch Rocket Book. their line of high-tech notebooks, in the season 8 Shark Tank finale. Simply put, a Rocketbook lets you write in a notebook with a real pen, then upload everything in the notebook into a document management program with the accompanying smart phone APP. When the notebook fills up, simply "erase" it by putting it into a microwave.
They also have a new version of the Rocket Book that won't air on Shark Tank (they brought it out after taping) called the Everlast Notebook. This version erases with a drop of water. Each version comes with a Pilot Frixion pen which is the only pen that works with either of the Rocket Books.
The guys got the product off the ground with two Kickstarter campaigns that raised about two and a half million bucks. Each notebook is only $27, so anyone can afford it. So far, they can barely keep up with demand, so they probably want an investment to secure more inventory.
My Take on the Rocket Book
When computers became ubiquitous, people started talking about the "paperless office." It never really happened because we need access to physical documents. With cloud storage, it's starting to replace old file cabinets and document storage facilities. The Rocket Books do the same thing, but on a personal level.
Back in 1997, the Palm Pilot "personal digital assistant" came out. Some folks thought that may replace notebooks. They never did. I still use Moleskine Notebooks to take notes and keep journals. I have about two dozen in a box for easy reference. I, like many people, still like the feel of a pen in my hand. This is why I think the Rocket Book is the coolest invention ever.
One of these notebooks replaces all my (future) Moleskines and it only costs twice what a Moleskine does. The product eliminates the need for wasting paper on school notebooks and solves a huge storage problem. Anything you put in a notebook, whether it's notes, drawings, calculations or anything else is now permanently stored in the cloud. EVERYONE is going to want one. For that reason, I am IN!
Will The Sharks Take Note?
The Rocket Book guys don't need a Shark. They will likely do a deal on the air with someone, but it will never close. The company has the potential to go to $100 million in sales in a year or two. Giving up a sizable chunk to a Shark is foolish with that kind of growth.
Their technology is patented, simple to use, and affordable. It will change the way people use notebooks forever. The Sharks will fight over this deal and someone does one, but it dies in the due diligence phase.