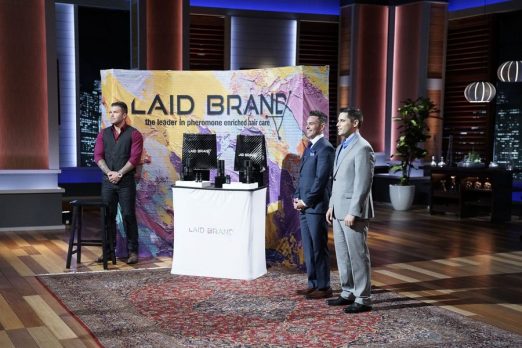 Adam Rauch and Derek Shaw seek a Shark to invest in Laid Brand, their pheromone-enriched hair care products, in the season eight finale. Rauch, along with celebrity hair stylist David L. Hensley, developed Laid Brand products over a three-year period. They wanted to create products that made women look good and feel good.
The heart of their products is "Pherottraction Technology," which means they add pheromones to their product to elicit a "positive social response." Pheromones are chemical scents mammals (including humans) secrete to indicate different emotions – including sexual attraction. For years, different products added human pheromones to their mix and sold them as "sexual aids." Rauch is attempting to bring the same pitch to Laid Brand.
There are three products in the line, all with tongue in cheek names. "Fill Me Up" is a volumizing spray, "Rockin'" is a hair oil, and "Straight 2 Kinky" is a detangler. A bottle of each costs $24.99. The company has a small but growing cult following and they're looking for a Shark to bring them to the next level. Will a Shark be attracted to this business?
Laid Brand Shark Tank Recap
Adam and Derek will pitch the panel of five Sharks on the business and its prospects for growth. They'll need to convince Mark Cuban, Barbara Corcoran, Kevin O'Leary, Lori Grenier, and Robert Herjavec that the company is worthy of a Shark investment. A good business plan, good financials, and sales data will impress the Sharks, but they'll need to show them THEY are capable of running the company to "Shark standards." A full pitch re-cap on HandOut Gloves will be available on Shark Tank Blog once this episode airs.
Laid Brand Shark Tank Update
The Shark Tank Blog constantly provides updates and follow-ups about entrepreneurs who have appeared on the Shark Tank TV show. Once an episode has aired, we monitor the progress of the businesses featured, whether they receive funding or not and report on their progress. The Shark Tank Blog will follow-up on Laid Brand, Adam Rauch and Derek Shaw as more details become available.
Posts About Laid Brand on Shark Tank Blog
Laid Hair Products with Pheromoneshttp://www.sharktankblog.com/laid-hair-products-pheromones/
Laid Brand Company Information
Video