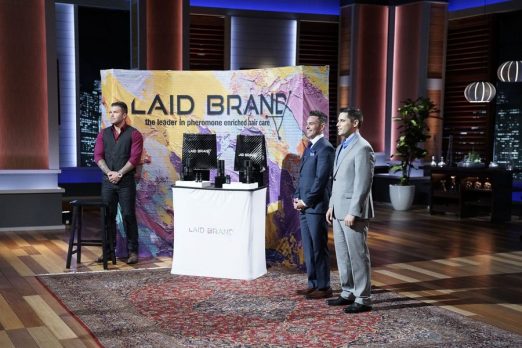 Adam Rauch and Derek Shaw seek a Shark to invest in Laid Brand, their pheromone-enriched hair care products, in the season eight finale. Rauch, along with celebrity hair stylist David L. Hensley, developed Laid Brand products over a three-year period. They wanted to create products that made women look good and feel good.
The heart of their products is "Pherottraction Technology," which means they add pheromones to their product to elicit a "positive social response." Pheromones are chemical scents mammals (including humans) secrete to indicate different emotions – including sexual attraction. For years, different products added human pheromones to their mix and sold them as "sexual aids." Rauch is attempting to bring the same pitch to Laid Brand.
There are three products in the line, all with tongue in cheek names. "Fill Me Up" is a volumizing spray, "Rockin'" is a hair oil, and "Straight 2 Kinky" is a detangler. A bottle of each costs $24.99. The company has a small but growing cult following and they're looking for a Shark to bring them to the next level. Will a Shark be attracted to this business?
Laid Brand Shark Tank Recap
Adam and Derek enter the Tank seeking $30,000 for 30% of their business. A third man is with them. They begin their pitch and tell their story. When a woman walks in, the un-named man (presumably a hired model) begins to rub the product into her hair. Then, the woman hands out samples to the Sharks.
There is some silly banter about pheromones but they eventually get down to business. The company was started in 2010 by Derek. He brought in Adam because he had experience with hair salons. They did some "pilot" products and sold $27,00 in six months out of one salon. Unfortunately, the company has zero sales in the past three months because they need to reformulate before they go calling on salons.
Both Lori and Mark wonder if they've done any market research with women and the guys claim there is a pheromonal community out there. Robert begs to differ. Putting pheromones into products isn't new or proprietary, he's out. Lori wants to know the margins. They make one bottle for  $2.50 and sell it for $24.99. Kevin says even with good margins, they'll never get shelf space, he's out. Lori thinks it's too much work, she's out. Mark thinks they can grind it out and make it work, but he's out too. That leaves Barbara. She says if she sprayed this on her, she'd be a "walking sex goddess" and is afraid of the consequences. She's out too.
Laid Brand Shark Tank Update
The Shark Tank Blog constantly provides updates and follow-ups about entrepreneurs who have appeared on the Shark Tank TV show. The guys shut the business down in December, 2018.
Posts About Laid Brand on Shark Tank Blog
Laid Hair Products with Pheromones
Laid Brand Company Information
Video