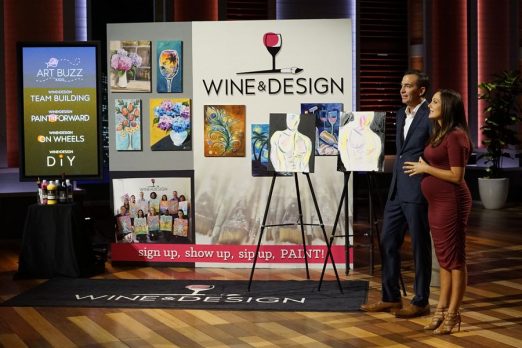 Patrick and Harriet Mills want to try the art of the deal on the Sharks when they pitch Wine and Design in Shark Tank Episode 826. They are in the business of franchising their art classes for grown-ups where wine is allowed. Harriet created the franchise concept after taking an art class with her friend, Emmy Preiss.
The two women ran the flagship Wine and Design shop Raleigh, NC for two years before launching the franchise concept. The company is the leader in this business model nationwide with 76 franchisees (and more coming). Their home state of North Carolina boasts 25 franchises. The studios offer fun nights out, birthday parties, team building events and more.
The cost to start a franchise, including the $25,000 franchising fee, ranges from $50,000 to $100,000. Some states require a license for BYOB establishments which can add to the cost and time it takes to open a franchise. Their franchise wide revenue is growing more than 35% annually ad they want to have 100 franchisees by the end of 2017.
They likely want a Shark to help them fuel demand and growth. Will a Shark design a deal with the Mills'?
Wine and Design Shark Tank Recap
Patrick and Harriet enter seeking $500,000 for ten percent of their business. Their sales are impressive: $10 million in 2016 with $12-13 million projected for 2017. Barbara, Lori and Mark ultimately think there's too much competition in the space and they all go out. Robert offers $500,000 for 33% of the business and  Mr. Wonderful, the wine loving Shark,  offers $500,000, with $350,000 as a line of credit at 12 percent interest, for 10 percent equity. They accept Kevin's offer.
Wine and Design Shark Tank Update
The Shark Tank Blog constantly provides updates and follow-ups about entrepreneurs who have appeared on the Shark Tank TV show. Less than a year after their original air date, the business has an update segment in episode 916 on January 7, 2018.
Posts About Wine and Design on Shark Tank Blog
Wine & Design – Art Studios for Regular People
Wine and Design Company Information
Video