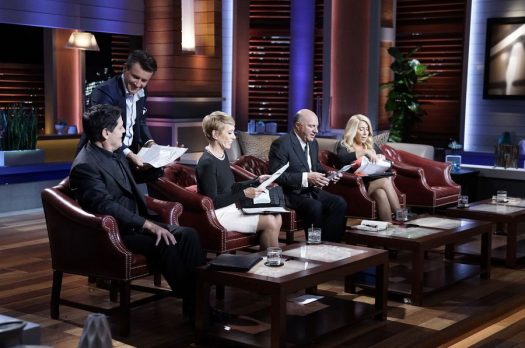 Shark Tank episode 826 is the season eight finale and features four new businesses seeking a wealthy Shark as a partner. Patrick and Harriet Mills want to craft a deal for Wine and Design, their national franchise that offers art classes while socializing and sipping BYOB wine. Adam Rauch and Derek Shaw want to attract a Shark to Laid Brand, their pheromone enriched hair care product line. Jake Epstein and Joe LeMay want a Shark to help them launch Rocketbook, their notebook that uploads to the cloud with a smartphone app. Heather Stenlake wants a Shark to help her sell Bridal Buddy, an accessory that lets women use the bathroom while wearing a bulky wedding dress.
Which businesses land a Shark in the season 8 finale?
In this episode's update segment, all the "rags to riches" stories of the Sharks get a recap. We'll get another look at each Shark's path to success.
There are 24 Shark Tank Episodes for Season 8. This season features more appearances by Chris Sacca and a host of other surprises. Casting is currently closed, but it never hurts to get a head start on season nine! If you would like to appear on the show, check out our Auditions and Casting information.
Episode 826 – The Shark Investors and Entrepreneurs
The Shark Tank Episode 826 entrepreneurs will make their best pitch to the panel of five Shark investors who will use their own money if they choose to invest. The Shark Investors negotiate on the spot without any previous information, which differs from typical negotiations between venture capital investors and entrepreneurial start-ups.
Companies pitching the Shark Investors must go through a rigorous due diligence process before an on-air deal is completed. Shark Tank Blog follow ups help you keep track of the companies that end up successful and the ones that don't complete their deal.
Thank you for reading SharkTankBlog, the number one site for Entrepreneurs, Investors and Fans. Our content updates multiple times day, giving you the latest information on Episode 826, Season 8, and all other seasons and episodes.
Episode 826 Press Release
Shark Tank: Episode 826 (5/12)
SEASON FINALE
A MALE MODEL, A FUTURISTIC SMART NOTEBOOK THAT ERASES HANDWRITING, HAIR-CARE PRODUCTS INFUSED WITH PHEROMONES AND AN UNDERGARMENT FOR BRIDES SO THEY CAN USE THE BATHROOM ON THEIR OWN, ON THE SEASON FINALE OF ABC'S 'SHARK TANK'
Also, a Recap of Season Eight's 'Shark Profiles' Series, Highlighting the Sharks' Inspirational Rags-to-Riches Success Stories.
"Episode 826" – A husband and wife duo from Raleigh, North Carolina, surprise the Sharks when they bring a party atmosphere and a male model into the Tank to show how their franchised art studios work; two men from Melrose, Massachusetts, have a futuristic version of a notebook that sends writing wirelessly, allowing the handwriting to be erased using a microwave oven, a concept the Sharks find both "wacky" and "brilliant"; two entrepreneurs from Mechanicsburg, Pennsylvania, hope to capitalize on the desire to attract a mate with hair-care products infused with pheromones; and a divorced mom from The Poconos, Pennsylvania, shares her philosophy of how she overcame obstacles and pursued her idea of how brides can bag up their wedding gowns so they can use the bathroom on their own. There will also be a season-long recap highlighting the Sharks' inspirational and often revealing rags-to-riches success stories, on the season finale of "Shark Tank," FRIDAY, MAY 12 (9:00-10:01 p.m., ET), on The ABC Television Network.
The Sharks in this episode of "Shark Tank" are Mark Cuban, Barbara Corcoran, Kevin O'Leary, Lori Greiner and Robert Herjavec.