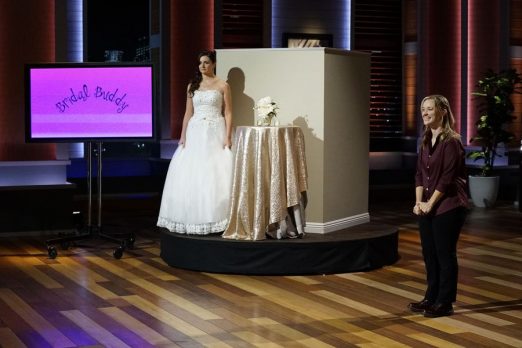 Heather Stenlake wants to buddy-up with a Shark to team with her on Bridal Buddy, the accessory that lets brides go to the bathroom while wearing their wedding dress. It's essentially a slip that goes on underneath a wedding gown. When nature calls, the bride can bag up her bustle to safely relieve herself without making a mess.
Stenlake first created the idea back in 2002 while consulting for a bridal shop. One of the most frequently asked questions by brides buying a wedding dress was "how do I go to the bathroom in this thing?" She invented the solution, but put the product on hold while she raised her family. In 2015, she dusted her idea off and began marketing it.
A Bridal Buddy costs $39.95 and comes in two sizes – one for women under five feet five inches and one for women over that height. She tried doing a Kickstarter, to get the product launched, but it was unsuccessful. Since then, she managed to get the product on Amazon. Heather likely needs a Shark to get the product into mass retail. Will a Shark be her buddy and invest?
Bridal Buddy Shark Tank Recap
Heather enters the Tank seeking $75,000 for 10% equity in her business. A model demonstrates the product while Heather tells her story. Then, the model hands out samples. Heather says  she was in the bridal industry in 1998 and the question "how do I go to the bathroom in this dress" came up frequently. In 2002, she made a prototype, but set the idea aside to raise her children. In 2015, now divorced, she revisited the idea and borrowed $40,000 from her retirement account to get things going.
Heather has $195,000 in lifetime sales. She makes each unit for $14 and sells them for $29.95. She says she's approached David's Bridal, but they weren't interested. Lori says they don't like the "potty association." Mark chimes in and says the wedding industry isn't for him and he goes out. Robert says she needs retail because brides would buy at the point of purchase. It's too much legwork – he's out.
At this point, Marissa – the model – speaks up on behalf of Heather while Lori and Kevin whisper to each other. Kevin and Lori offer $75,000 with 25% to each of them and 25% for Marissa. Barbara then offers $75,000 for 33.3%. Lori chimes in and says her and Kevin will do $75,000 for 20% each – Marissa is out.  Heather asks if they'll go to 30% and Barbara says she will. Lori and Kevin match that and Heather goes with them.
Bridal Buddy Shark Tank Update
The Shark Tank Blog constantly provides updates and follow-ups about entrepreneurs who have appeared on the Shark Tank TV show. The deal with Kevin and Lori ended up not closing. The company made a mermaid dress "buddy" to add to its line. They also sell a Christmas tree bagger and foot petals – a fatigue relieving pad that slips in the toes area of dress shoes.  In 2020, Heather got to use her product again when she remarried. The product is in 3 dozen or so independent bridal shops, Bed Bath and Beyond stores and Amazon. As of August, 2023, the company is still in business, but the products are no longer in Bed Bath and Beyond. Reliable revenue figures are unavailable.
Posts About Bridal Buddy on Shark Tank Blog
Bridal Buddy Company Information
Video