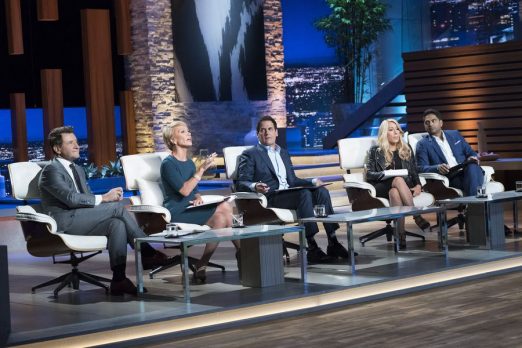 Episode 916 is the second of two shows kicking off 2018. Rohan Oza returns for the third time in season nine as four new businesses pitch the Sharks.
David Zamarin hopes he won't repel the Sharks when he shows them DetraPel, his eco-friendly fabric protectant spray that uses extract from the lotus plant as its main ingredient. Kyle Donovan hopes the Sharks like iFork, his line of utensils for germaphobes. Daniel Turisinni hopes the Sharks are mindful when he pitches Recharj, his nap and meditation studios for busy professionals. Veteran entrepreneur Kat Nouri wants to bag a Shark when she pitches Stasher, a line of re-usable, silicone storage bags.
Who is succesful in catching a Shark tonight?
Kevin invested $500,000 ($350,000 as a line of credit) for 10% of Wine and Design in season 8. The painting studios had good sales and big plans. Tonight we'll see how Mr. Wonderful helped boost the business.
There are 28 Shark Tank Episodes for Season 9. This season features more appearances by "guest Sharks," including billionaire Sir Richard Branson. The 200th episode also airs this season. Casting is currently closed, but it never hurts to get a head start on season ten! If you would like to appear on the show, check out our Auditions and Casting information.
Episode 916 – The Shark Investors and Entrepreneurs
The Shark Tank Episode 916 entrepreneurs will make their best pitch to the panel of five Shark investors who will use their own money if they choose to invest. The Shark Investors negotiate on the spot without any previous information, which differs from typical negotiations between venture capital investors and entrepreneurial start-ups.
Companies pitching the Shark Investors must go through a rigorous due diligence process before an on-air deal is completed. Shark Tank Blog follow ups help you keep track of the companies that end up successful and the ones that don't complete their deal.
Thank you for reading SharkTankBlog, the number one site for Entrepreneurs, Investors and Fans. Our content updates multiple times day, giving you the latest information on Episode 916, Season 9, and all other seasons and episodes.
Episode 916 Press Release
Shark Tank: Episode 916 (1/7)
BRANDING GURU ROHAN OZA RETURNS TO THE 'TANK,' IN THE SECOND NEW EPISODE OF ABC'S 'SHARK TANK,' SUNDAY, JANUARY 7
"Episode 916" – An entrepreneur from New York City presents an innovative
line of flatware, cups and plates that makes eating more hands-free and
carefree; the only airtight, self-sealing zip-top bag in the world made
entirely of pure silicone with all the benefits of glass is introduced by
an entrepreneur from California; an Arlington, Virginia, entrepreneur hopes
to take nap time to a whole new level; an entrepreneur from Pennsylvania is
hoping to sell the Sharks on his non-toxic, super hydrophobic spray that
repels stains, on "Shark Tank," SUNDAY, JAN. 7
(10:00-11:00 p.m. EST), on The ABC Television Network, streaming and on
demand.
In a "Shark Tank" update, husband and wife duo Harriet and Patrick Mills
highlight Wine and Design, a franchise of Art Studios where customers are
guided through a painting exercise in a party atmosphere while drinking
wine, having snacks and listening to music. Tonight's class features a very
special model.
The Sharks in this episode are Robert Herjavec, Barbara Corcoran, Mark
Cuban, Lori Greiner and Rohan Oza.