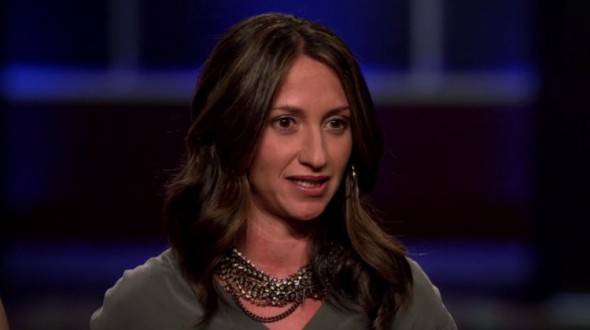 Kim Preis comes to episode 208 to ask the Sharks to invest in her novelty maternity clothing line, Samson Martin. The line includes tee shirts and other apparel, customized with the proud mother's due date emblazoned across the chest. For pregnant moms who get sick of answering questions about their bundle of joy's impending arrival, the shirts provide a short cut, informing questioners before they can ask.
The shirts include options like the exact date, or a season, like "Spring," "Summer," "Fall," or "Winter," or a month. Preis has been selling her collection through upscale boutiques, but the recession has hit the market hard, leaving her with the challenge of creating a lower price point for mass production and an introduction to the retail market. Will the Sharks find the apparel line appealing?
Samson Martin Shark Tank Recap
Preis comes to the Sharks asking for $50,000 in exchange for a 15% stake in her company. Her sales, to date have been $1.4 million, an impressive number, while working out of her basement. The numbers are impressive, but will the Sharks bite on her idea?
Her presentation is concise and businesslike. She explains how she's grown the brand in the boutique market, but now feels it's time to move toward mass retail production. Barbara Corcoran gets right to the bottom line, asking about the sales numbers. Preis responds that in the past year, she's done $90,000 in sales.
At their peak, Samson Martin's sales were $400,000 in a year, but they've dropped by 3/4 due to the recession, a discouraging dip. She owns a trademark on the words "Due in," which appears on most of her designs. Kevin O'Leary questions the narrowness of her niche market. Robert Herjavec wants to know if a business "can be hot twice." He's concerned about the dip in sales.
Who's In?
Robert Herjavec asks Daymond John, as a "brand guy," how difficult it would be to take a brand which is in a decline and bring it back to popularity. John replies that the downturn in the economy means that many brands are fighting for the same niche space in the market. He believes competition in the retail space is too fierce, and he's out.
Kevin Harrington believes the products are too diverse. He calls the brand confusing, and he goes out. Barbara Corcoran isn't sold on the value of the "Due in" trademark. She's out. Robert Herjavec isn't interested in fighting an "uphill battle." He's out.
Only Kevin O'Leary is left. He believes the niche market is too small. He declines to offer a deal, saying "I would be killing money if I gave it to you."
Preis leaves the Shark Tank without a deal.
Samson Martin Shark Tank Update
Preis is disappointed by the failure, and calls O'Leary's rant about her business being "dead" a "little disrespectful, and a little unnecessary." Although she continued to leverage her brand, the recession, in the end, proved too strong a challenge. Samson Martin's social media feeds have been silent since 2013, and the website delivers a blank page. It seems that Mr. Wonderful's assessment, although unkind, was accurate. Whether it was a self-fulfilling prophecy, and the failure of the company was brought about by the lack of an investment, is difficult to know, but at the end of the day, Preis moved on, closing her doors. As of July, 2021, Kim is a "Fashion Stylist" at Behold.
Posts about Samson Martin on Shark Tank Blog
Will Barbara Corcoran Love Samson Martin?