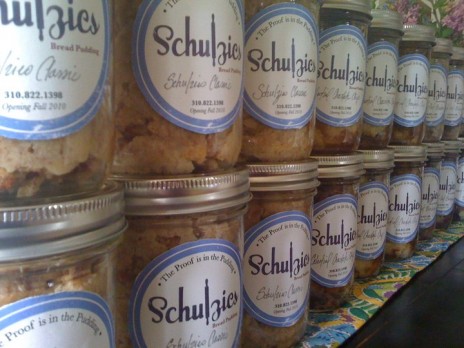 Sarah Schulz brings Schulzies Bread Pudding, her decadent dessert offering, to Shark Tank episode 508. Schulz likes bread pudding, but she couldn't find any that met her "standards," so she set out to make her own. She got recipes from friends and family and got cooking. She describes Schulzies Bread Pudding as "rich and creamy, baked with love, and served chilled for the California heat." Schulzies is green, too. They use local, sustainable ingredients for their puddings and all their paper products are bio-degradable. They ship their waste to local compost heaps.
Schulz started her business back in the fall of 2010 and sold her wares at farmer's markets and opened a storefront in Venice Beach that November. She cooks up 108 different flavors with some wild offerings like All-American Bacon Maple, Kiwi-licious, Radical Raspberry, and Tiramisu for You.  The Venice shop was so successful, they went north to San Francisco and opened a store there in late 2012. They even did a successful Kickstarter campaign to help open the San Francisco store, raising over $11,000 for equipment purchases and gear for the new shop.
It looks like Schulzies Bread Pudding comes in mason jars (a la Wicked Good Cupcakes). They probably want some Shark help expanding their retail locations.
Schulzies Bread Pudding Tank Recap
Sarah approaches the Sharks boldly, asking for a $160,000 investment in return for a 20% stake in her company. She passes out samples of the bread pudding, hoping to sweeten the Sharks' appetites with her baked treats.
She started a small shop in Venice Beach, and hired someone to run it, to the consternation of Barbara Corcoran, who asks if she "ran away from her business." Sarah asserts that she opened a "bread pudding parlor" in San Francisco. Her original location was 140 square feet, and she made $190,000 in sales in the first year.
In San Francisco, she created an 800 square foot brick-and-mortar location. Are her retail ideas too ambitious for the Sharks? Their doubts are showing clearly as she describes the trajectory of her business thus far. Mark Cuban calls the "parlor" a "yogurt store, with bread pudding."
In the first month, the new store has done $30,000 in sales. The cost of the space is $3200 per month. Kevin O'Leary points out that, by moving to a new, larger store, her profit per square foot has dropped. She's moving into a new location, where she's not yet known, and hasn't done much in the way of marketing.
Who's In?
Kevin O'Leary tells Sarah that "For me, it's not investable. I don't know if you're going to execute a business plan, because there isn't a business plan yet." He's out.
Barbara Corcoran calls the pudding "delicious", but "can't imagine making money" with Sarah. She decides to follow her gut, and goes out.
Robert Herjavec loves the bread pudding, but doesn't believe in the business plan. He's out.
Mark Cuban agrees, telling her that her "biggest risk is you." He's out.
Lori Greiner tells her she "might be on the brink of something fantastic" but she's not there yet. She feels it's too early to invest in the company, and she's out. Sarah leaves the Tank without a Shark deal.
Schulzies Bread Pudding Shark Tank Update
The Sharks liked the bread pudding so much, they go back for extra samples after Sarah leaves the Shark tank. Clearly the product was not the barrier to investing, but Sarah's lack of a cohesive business plan and the way her passion drives her to take big chances, like opening a second location so early, are.
For two years, the San Francisco location thrived, but in April of 2015, Sarah announced its closing on social media. She asserts that Shulzies Bread Pudding will still be available, however, through retail outlets as well as through her website. It seems as if Sarah's business sense is finally evolving and she's letting go of the idea of a shiny "bread pudding parlor" in favor of a more practical retail strategy. Even without a Shark deal, she has found a way to sweet success.
The company social media stopped posting in October, 2016 and the website went down. It looks like they went out of business.
Posts About Schulzies Bread Pudding on Shark Tank Blog
Schulzies Bread Pudding Information