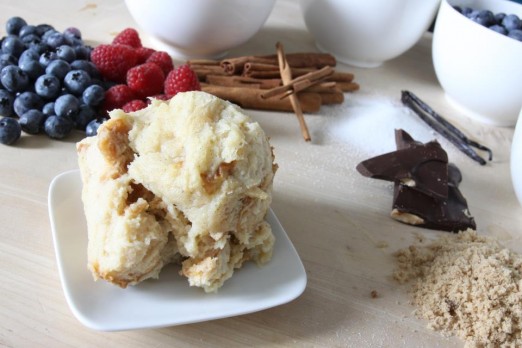 Sarah Schulz believes in doing things herself, which is what prompted her to start Schulzies Bread Pudding. She always liked bread pudding, but she couldn't find any up to her discerning standards, so she started making her own. Before long, she had a list of over 100 recipes and she was selling bread pudding at southern California Farmer's markets. It wasn't long after that she opened a retail shop and turned Venice, CA into a bread pudding craving hot spot.
Schulzies Bread Pudding became so popular, they had to open a second store in San Francisco to let the northern California folks in on the action. They ran into some snags and snafus when opening the San Francisco shop, so Sarah did a Kickstarter campaign to raise an extra $10,000 for equipment and "finishing touches."
My Take on Schulzies Bread Pudding
Bread pudding is yummy. It isn't a well-known treat in the USA, but being married to a daughter of the Empire, I've had more than my fair share. It's kind of like super-rich pudding cake. Schulz makes 108 different flavors of bread pudding with some wild flavors to suit every palette. I'm not sure I'd want one of her shops near me, because I'd eat too much of the stuff and put on weight!
The concept caught on in California and if it's as good as it looks, it could catch on anywhere. Schulz is even packaging her bread pudding in mason jars – just like Wicked Good Cupcakes, so folks all over the place can get it shipped to them to try it out. If Sarah would like to send me some, I'd be happy to send her my address!
Do Sharks Bite on Schulzies?
Schulzies, despite their mason jar packaging, remind me a lot of Wicked Good Cupcakes as a business. There is a lot of LA buzz saying Shulzies Bread Pudding could "end the cupcake craze in LA." Whether it does or not, Sarah will have the Sharks salivating over her puddings and her business. There will undoubtedly be a bit of a "sob story" about the permitting woes she encountered in San Francisco, but she has a solid business that's expanding and making money.
The Sharks should recognize what a gem Schulzies is. I think Sarah will get multiple offers, but it wouldn't surprise me if she does a deal with Mr. Wonderful similar to the Wicked Good Cupcakes deal. Both businesses are at a similar point from a retail and internet sales standpoint. I am most definitely "IN" with some Chocolate Coconut Love!