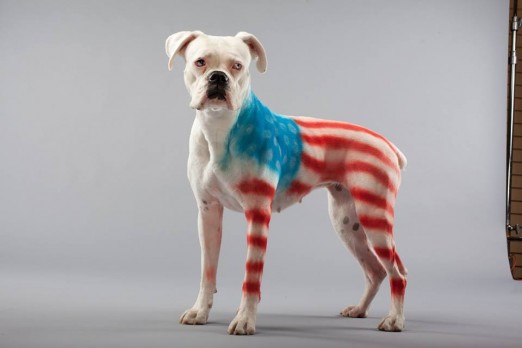 Pet Paint inventor and "dogtrepreneur" Abe Geary loves dogs so much, he wants to decorate them! We've all seen people put on face paint and body paint to celebrate a special occasion or to root for the home team, Geary wants folks to paint their pooch with Pet Paint. Since dogs like to lick themselves, he made sure the paints were made from non-toxic, veterinarian approved ingredients so PetPaint won't get your best friend sick.
There are a wide variety of colors and there's even stencil kits for different doggy designs. It's a novelty that could catch on – people spend billions of dollars on their dogs each year and nearly 50% of American households own at least one dog, so there's big market potential.
My Take on Pet Paint
We have a dog – a loyal, lovable, and sometimes fierce North American Mutt who's a mix of German Shepard, Labrador Retriever, and American Pit Bull Terrier. She's been dressed as a reindeer at Christmas time, a "devil dog" on Halloween, and she's endured many silly costumes our 5 kids have dolled her up in over the years. She has never (to my knowledge) been painted.
This is something my kids would buy for the dog. They'd have a blast painting her like a zebra or some imaginary creature. They'd probably do team colors for a soccer tournament too. My wife wouldn't want her in the house all painted up, but if she stayed outside, I think it would be OK. It would surely prompt countless Facebook photos of the old girl. At first I wondered why Geary wasn't targeting cats for Pet Paint, then I realized it's probably because they're cats!
Do the Sharks Put on the Dog?
Novelty items are hit or miss in the Shark Tank. They need to strike a chord with the panel. I'm guessing Lori and Barbara won't bid on this for the same reasons my wife wouldn't want the dog painted up in the house – too messy. Mark will likely think it's "too early" and Mr. Wonderful will trot out the "royalty offer," which he's done a lot in season 5. Robert is the dog lover, so if Geary can win him over with his painted pooch, he may spark some interest.