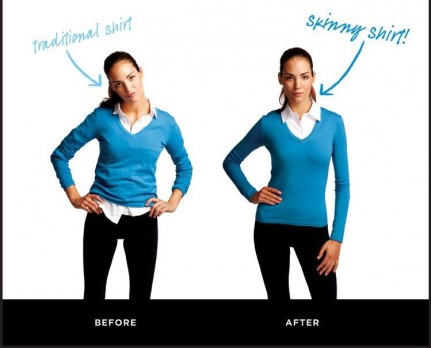 Julie Kalimian, a former magazine marketing executive, pitches Skinny Shirt, her line of slimming yet fashionable women's shirts, in Shark Tank episode 611. The Skinny Shirt is essentially a tee-shirt with a collar designed to be worn under jackets, sweaters, and other shirts while giving the appearance of wearing a full-collared shirt. Since the Skinny Shirt is sheer, it doesn't have the bulk of a "real" button down shirt. The result is a sleeker, slimmer appearance.
Kaliman started selling her  line back in late 2010. She wanted a shirt with the feel of a stretchy, comfy camisole with a professional look. The first prototype was actually made specially for Julie by her tailor who sewed the top of a collared shirt onto one of her camisoles. With a little help from Alexandra Shuman, friend and designer at Michael Kors, Julie took the Skinny Shirt from concept to finished product.
The shirts are available online and at a couple dozen boutiques nationwide. To date she's done around $500K in sales. She's likely looking for a Shark to help with manufacturing and increased retail distribution.
Will Julie give the Sharks the "skinny" on Skinny Shirts?
Skinny Shirt Shark Tank Recap
Julie enters seeking $100K for 20% of the business. She has a model with her who goes and changes into one of the shirts behind a screen, much to the delight of the male Sharks. She reveals she's done a half million in sales, but only $50,000 last year due to an arrangement with an inferior manufacturer.
Mark's concerned that the pace of her sales is trending downward. Mr. Wonderful calls it logistics problems. Lori comes to her defense, but Mr. Wonderful calls her a cockroach; Julie says she's not. Mr. Wonderful doesn't think she's a good bet, he's out. Mark gives her credit, but has concerns with her management issues, he's out too. Robert thinks she doesn't have a solution today, he's out. Lori doesn't like the look of collared shirts under a sweater, she's out. Barbara thinks she did a good job standing her ground against the Sharks, but she thinks she took too long to deal with manufacturing issues, she's out.
RESULT: NO DEAL
Skinny Shirt Shark Tank Update
The Shark Tank Blog constantly provides updates and follow-ups about entrepreneurs who have appeared on the Shark Tank TV show. This business is closed. Social media has been dark since June, 2018 and the website is gone.
This was the last social media post:
HI SkinnyShirt customers. We are so very sorry for the delays in the orders placed since 5/22. Since we are closing we are very lean staffed. The

person who processes orders had a recent death in her family. And so, she has been out. Therefore, the orders have not all been processed yet. They should be processed in the next week or so. Again, we apologize for any inconvenience this may have caused. Thank you for all of your support along the way.
Posts About Skinny Shirt on Shark Tank Blog
SkinnyShirt Smoothing Undershirts
Company Information
Video