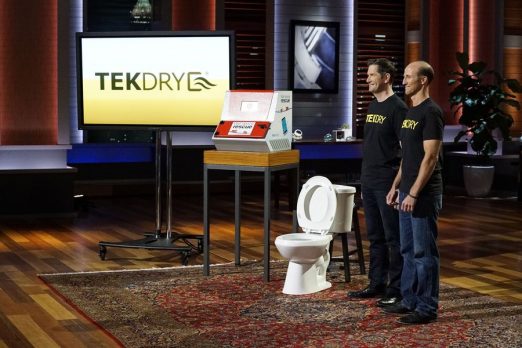 Adam Cookson and Craig Beinecke hope the Sharks don't think TekDry is all wet when they pitch their phone rescue machine in Shark Tank episode 804. TekDry is a patented device that uses low pressure and heat to safely dry out electronics that fell into water. It works on smartphones, tablets, cameras, and larger devices like laptops and video game systems.
Adam and Craig founded the company in 2014 and raised $2.3 million to get the business going. They have their machines in over 80 Staples stores – with more in the pipeline. There is strong interest in their machines, since it brings people in to the store. They also offer a mail-in service which you only pay for if they can fix it.
Many people who drop their phones in water will put it in a bag of rice. That's only 15% effective – less so than leaving it out on the counter to dry. The TekDry guys say "keep the rice for your Kung Pao Chicken!" The process takes 30 minutes in the TekDry machine and it uses the device manufacturer's specifications to regulate the drying process. A typical smart phone costs $69 to fix and a laptop runs $89.
They likely need a Shark's cash to scale up production and get into more stores. Will a Shark take the plunge and invest?
TekDry Shark Tank Recap
Adam and Craig enter the Shark Tank seeking $500,000 for 5% of their business. They tell their story and demonstrate the machine. All the Sharks except Lori are impressed. She thinks most people won't be able to save their phones, but the guys  have rescued phones that were wet for several days.
Currently, they're in 82 stores. The previous year, they were in just a few stores and made $29,000. They claim they're bringing on another 600 stores which would project to $650,000 in sales. Customers pay $69 to dry out their phone – only if it works. TekDry keeps 60% and the store keeps 40%.
They reveal they raised $2.2 million and the Sharks don't like hearing that. Robert is the first Shark out because he doesn't like brick and mortar retail. Lori doesn't like the valuation and can't see how she'd get her money back; she's out. Barbara thinks new smartphones will be waterproof and their machine will be obsolete soon; she's out. Mark thinks they'll be continuously raising money and he'd become diluted; he's out.
That leaves Kevin. He's interested and he makes an offer: a $500,000 loan at 13% interest for 36 months for 5% equity in the company. They ask if he'd loan them more, but he says no. After a brief chat, they accept the deal.
TekDry Shark Tank Update
The Shark Tank Blog constantly provides updates and follow-ups about entrepreneurs who have appeared on the Shark Tank TV show. The deal with Kevin closed and he is listed as a minority investor on the company's balance sheets. After airing, the company raised more money. In July, 2019, they raised $3 million in a venture round and in March, 2020 they secured $1.5 million in financing.
As of June, 2022, the company has machines in over 600 Staples stores – predominantly on the east and west coasts. Revenues are around $1 million annually. In June, 2023, it appears the service is only available in 2 locations: Marathon, Florida and Kahului, Hawaii. Social Media has not been updated since 2019. Both men list the company as "open" on their LinkedIn pages, but Beinecke started Ascent Professional Services, an engineering consulting firm, in 2019. Staples still lists the service on their website though , so they must still be in business.
Posts About TekDry on Shark Tank Blog
TekDry Company Information
Video