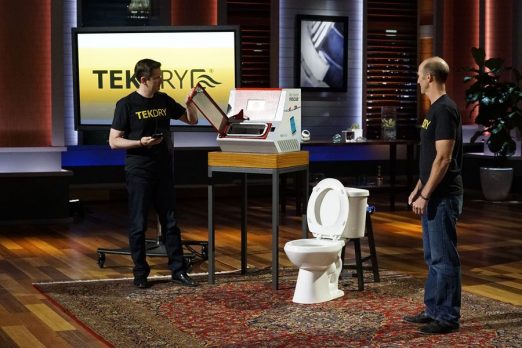 Tek Dry is the machine for everyone who ever dropped their phone into the toilet. Chances are, you know somebody who inadvertently got their smart phone wet – whether it's a toilet drop, a dip in the pool, or some other accident. It might've even happened to you.
The standard response is to immediately put the wet phone into a bag of rice, but Tek Dry creators Adam Cookson and Craig Beinecke think you ought to save the rice for your Kung Pao chicken and use their machine instead. Simply take your wet phone to a retailer with a Tek Dry machine, drop it in, and in 20-30 minutes, it's safely dried out without any damage (or you don't pay).
The machine uses low pressure heat and proprietary beads to dry out the phone 100%. The built in computer "knows" the manufacturers specs for all devices, so the job gets done correctly. They have Tek Dry machines in over 80 Staples stores as of their air date and they constantly expand their retail reach. Retailers love it because it gets people into their stores.
With over 2 million cell phones damaged by water each year, the market potential is huge. They likely need a Shark to help with retail expansion and with ramping up production.
My Take on Tek Dry
I've dropped my phone in water, but I have a LifeProof case with eliminates the need for this product. I could have used it  a few years ago when I spilled a Martini all over my laptop (Tek Dry works on laptops too). That episode fried my computer completely!
I think there's a big need for this machine and it could become as ubiquitous as ATM machines. Our family – to date -lost two phones to water hazards. We tried the rice trick – it didn't work. When you drop your phone in water, you should turn it off and NEVER plug it in. If it goes in salt water, rinse it with fresh water, then hurry to the nearest location.
I can see why retailers love the product. Someone who's just experienced a near loss of a $400-$800 phone is probably going to want to protect it. What a great opportunity to sell them a waterproof case – like the aforementioned LifeProof. With the growing number of electronic devices and the innate human ability to be clumsy, I think this product could be HUGE. For that reason, I am IN.
Are Sharks All Wet?
I think this pitch will get a lot of interest from the Sharks. I'm willing to bet at least one Shark lost a phone to "water hazards" in the past. What gets Tek Dry a deal is a proper valuation. They already raised $2.3 million in a venture round. When companies with other investors enter the Tank, the valuations are often diluted. The Sharks usually want a decent slice of the pie and other investors have already taken theirs.
They'll also need to demonstrate they have more stores coming aboard. Getting in 80 Staples is a good start, but they need a lot more stores to make this business fly. I think the Sharks will sense a good opportunity and there should be a few bids. Unless the valuation is out of whack, I think Tek Dry leaves with a Shark AND a dry phone!