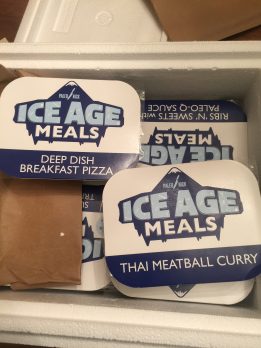 I was getting ready to go shopping when I was writing up my post on Ice Age Meals and I decided I'd order some and do an Ice Age Meals review. They came in just two days and I ordered 14 meals to get free shipping. I ordered Thai Meatball Curry, Butternut Squash Lasagna, Tri-Tip Steak with Yams, Deep Dish Breakfast Pizza, and Ribs with Yams and Paleo Sauce.
Everything came packed in a big box with a foam cooler inside. One of the meals had damaged packaging, so I contacted customer service. I haven't heard back yet, but I'll update this post to reflect on the customer service experience. Luckily, I had enough room in the freezer to fit them all!
*****UPDATE******
I heard back from customer service and they are replacing the damaged package. It took a few days, but I contacted them on their air date, so I am sure they were slammed.
I bought these meals with my own money, so I am giving you the straight up on this product. This is not a paid review.
Ice Age Meals Review: Butternut Squash Lasagna
For lunch, I decided to try the Butternut Squash Lasagna. I didn't thaw it overnight, I took it straight from the freezer to the microwave. I nuked it for 8 minutes, poking it with a fork every couple of minutes, then let it sit two minutes before chowing down.
I sprinkled some parmesan cheese on it and took a bite. It heated through nicely. I was surprised at the flavor! The garlic, Fennel, and chili powder really popped. The texture of the squash wasn't mushy at all and the beef heated up nicely. It was good!
I am always a bit nervous about frozen food being too bland and mushy, but the Ice Age Meals lasagna did not disappoint. I ate the whole serving and it filled me up. I think two servings would feed my wife, myself, and my daughter. I have two more of this variety and look forward to having it again. I can't wait to try some of the others!
*****UPDATE******
We had the Mexican Meatballs which were excellent. My wife and daughter want pasta with theirs next time. These were the best frozen meatballs I ever had. The Deep Dish Breakfast Pizza was OK. I liked the sausage, but it seemed like the concoction was forced.
If you liked what you saw on Shark Tank and in the Ice Age Review video below, order some in the Ice Age Meals website.
Ice Age Meals Review Video: