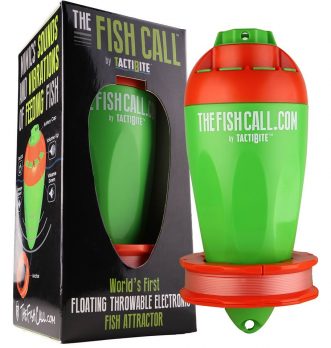 I spoke with Jeff and Jack Danos, inventors of The Fish Call, about their upcoming appearance in Shark Tank episode 802 on Friday, September 30. Jeff and Jack are a father/son team who likes to fish; now they are full-fledged entrepreneurs. As an avid fisherman myself, I was a bit excited for them and for their product which allows people to catch more fish. Like any fisherman, I never came home thinking I caught too many fish. There are plenty of days when I catch too few!
The Fish Call is a device that emits sound waves that mimic the sounds of fish schooling. It uses "tactile transducers," mobile speakers mounted to a hard surface, to emit the sounds and it operates on three AAA batteries. I was doing a little research on the product and while I was browsing their website, a little chat box came on. It was Jeff and Jack. Within minutes we were speaking on the phone.
Origin of The Fish Call
Jeff (dad) and Jack (son) hatched the idea together:
"The whole thing started out in October, 2013. We came up with the idea one day while we were out fishing," says Jack, "we had too many trips where we didn't do as well as we wanted. The original motivation was to come up with something that would help ourselves catch more fish. We always fish with lures and bobbers that make sounds, then one day the  lightbulb went off and we came up with the idea for the Fish Call."
The first prototype was made out of a 3 gallon cylindrical Igloo cooler," Jeff interjects, "we put a transducer in it and floated it out there. We fooled around with different audio frequencies and it worked! We caught a lot of fish – we couldn't believe it."
"While we were testing it," Jack continues, "we didn't fish next to anybody,  people didn't see it. It was 'top secret,' we kept it under wraps. Now, it has three sounds built-in for different conditions, one is especially for fresh water, but we've caught fish using all three sounds in different conditions in both salt and freshwater. When we first started showing it to people, they said 'what the heck is that?' People never saw anything like it before."
Kickstarter
"In 2015, we launched a Kickstarter for the second prototype of the Fish Call," says Jeff. "Jack did all the 3D printing for the prototypes. It was a busy time. We'd be up all night printing them, then we had to seal them because 3D printing isn't waterproof. Then we'd be out all day fishing with it. We haven't really been on a pleasure fishing trip for some time. We hope to get out Thursday, before the show airs and things get crazy."
"As for the Kickstarter," says Jack, "we expected a good response. We set a modest goal ($10,000) to hit in one night. We had the local news air us, we had launch party – in two days we were 200% funded. I really didn't know what to expect, most Louisiana fishermen aren't that tuned in to Kickstarter."
"The whole Kickstarter thin was Jack's brain child," Jeff continues, "we hit our goal in two hours. Jack's a web savant. He's a pretty normal kid for as smart as he is. He started programming at  age 12 – all the tech stuff comes naturally to him without trying."
"I do have to try, Dad." Jack replies.
"Now, we are making them in an injection molding factory," Jeff continues. "They come in containers and arrive at the dock packaged and ready to ship. So far we've sold about 4000 units and we have another 4000 on hand for the show. We have another container coming in about a month."
Jeff and Jack are making money with The Fish Call, but they want to do more. "We'd love to get them in stores," says Jack. "We have them in two stores – one in Austin, Texas and one here in Louisiana. We haven't got a lot of interest from retailers, but we're hoping the show can create some interest."
The pair have their website juiced up for show night, too. Jack's running the website on Google App Engines and their eCommerce platform is on Shopify.
Working Together
"I've had other businesses," says Jeff, "the most notable was an online cloud backup company I founded and sold a few years ago. Right now this is the main thing. The Fish Call a fishing product, but its technology involved. I like working with Jack most of the time, this has been a great project for us. We always spent lots of time together, Jack's home schooled and we always enjoyed our fishing trips. Now, they are more like work trips."
"It's alright working with dad," says Jack, "we get along well in general. We do disagree sometimes but we always figure it out. He doesn't know how good it is yet! The funny thing is, while we get a lot of skeptics, we get more people saying we're cheating! I never expected that comment – how many fisherman complain about catching too many fish? When someone says we're cheating, I'm like 'yeah, go back to using your fish finder!'"
Catching Sharks
"We sent in a video back in February," Jeff continues. "It feels like ten years ago. I still can't believe we're airing Friday. We taped in June and when those doors opened, that's when it hit me that it's happening."
"We're big fans," says Jack. "We've been watching it since the beginning and we've watched every week for the last three years. We'll pause it after a pitch and discuss what went wrong, it's crazy!"
"My favorite product is the Scrub Daddy, says Jeff. "I mean the guy goes on there with a sponge and a couple hundred thousand in sales and now he's doing $85 million. That's someone to look up to. Squatty Potty is funny, I like the video and I think FiberFix is cool. We have a lot of Shark Tank products. My wife likes buying stuff while the show is on. We've tried every dessert that's been on, too!The thing about a lot of the products on the show is they're a new twist on something that's already out there. Our product doesn't exist, that gives us huge hope for the future."
On Entrepreneurship
As usual, I asked Jeff and Jack about what it takes to be an entrepreneur. Here are their answers.
Jack: "It's not an easy answer. People think it'so easy to have a product but they fail for so many reasons. You need to have somebody actually buy your product and until they do, you have nothing. If you think its worth your time, just do it. There's never a better time than the present. We've done 95% of what the Fish Call is. Once we did it, we had an engineer design the injection mold. We had a real cameraman for our videos. At some point you need to hire people who know how to do things you don't, but it's still worth it to learn things for the future. You gotta be able to do everything. I think one of the mistakes startups make is hiring too many people to do things they should be doing themselves."
Jeff: "The main key to success is you need to be willing to figure it out. You can't rely on other people to figure things out, you need the ability to do it yourself. It goes against traditional education and society. Society says 'do it this way,' but true entrepreneurs know they can figure it out themselves."
I had one other question for Jeff and Jack. They answer it over at The Hot Dog Truck.