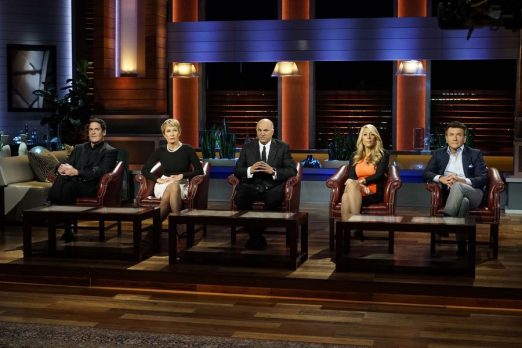 Episode 804 is a "Sharkette" episode as Lori and Barbara appear on the panel together. Four new businesses pitch the Sharks in hopes of getting cash, mentorship, and exposure. Husband and wife "runtrepreneurs" Doug and Renata Storer seek to light up the Tank with Night Runner 270, their "headlights for shoes." Native Floridian sisters and moms Shelly Hyde and Kara Haught show off Raising Wild, their swimsuits for women that offer fit, fashion and function while enjoying the outdoors. Adam Cookson and Craig Beinecke want to expand on their already successful business, TekDry, which markets a machine that safely dries out electronic devices that get dropped in water. In a rare treat – literally and figuratively – Wally Amos, the original Famous Amos, pitches the Sharks on the Cookie Kahuna, his new brand of cookies based on his original recipes.
Which business will catch a Shark and become the next Shark Tank success story?
In this episode's update segment, Daymond John provides an update on his participation in the 7th Annual Global Entrepreneurship Summit (GES), hosted by President Obama. The GES brings together entrepreneurs, investors, educators, and business representatives from around the globe to share ideas and build connections.
There are 28 Shark Tank Episodes for Season 8. This season features more appearances by Chris Sacca and a host of other surprises. Casting is currently closed, but it never hurts to get a head start on season nine! If you would like to appear on the show, check out our Auditions and Casting information.
Episode 804 – The Shark Investors and Entrepreneurs
The Shark Tank Episode 804 entrepreneurs will make their best pitch to the panel of five Shark investors who will use their own money if they choose to invest. The Shark Investors negotiate on the spot without any previous information, which differs from typical negotiations between venture capital investors and entrepreneurial start-ups.
Companies pitching the Shark Investors must go through a rigorous due diligence process before an on-air deal is completed. Shark Tank Blog follow ups help you keep track of the companies that end up successful and the ones that don't complete their deal.
Thank you for reading SharkTankBlog, the number one site for Entrepreneurs, Investors and Fans. Our content updates multiple times day, giving you the latest information on Episode 804, Season 8, and all other seasons and episodes.
Episode 802 Press Release
Episode 804 (10/7)
COOKIE LEGEND WALLY AMOS HOPES HIS NEW BRAND OF COOKIES DUPLICATES HIS PAST SUCCESS, AND BARBARA IS TOUCHED BY A MOTHER'S TENACITY WHILE PITCHING A SWIMSUIT BUSINESS, ON 'SHARK TANK'
Daymond John Provides an Update on His Participation in the
Global Entrepreneurship Summit (GES), Hosted by President Obama
"Episode 804"— Honolulu, Hawaii, octogenarian and cookie legend Wally Amos hopes his new brand of cookies duplicates his past success and brings out the "wonderful" in Mr. Wonderful; when two sisters from St. Cloud, Florida, share an emotional story of determination while pitching their swimsuits that offer fit, fashion and function for moms, Barbara is moved to share her own personal story; two men from Broomfield, Colorado, drop their own cell phone into a toilet to prove their invention can save damaged tech devices; and a bidding war ensues among the Sharks with a married couple from Orlando, Florida, who stumbled upon the bright idea to put safety light clips on running shoes, on "Shark Tank," airing FRIDAY, OCTOBER 7 (9:00-10:01 p.m. EDT), on the ABC Television Network.
The Sharks in this episode are Mark Cuban, Kevin O'Leary, Lori Greiner, Barbara Corcoran and Robert Herjavec.