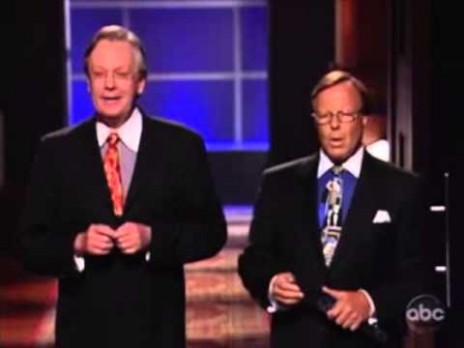 Todd Robbins and David Adamovich entered the Shark Tank during episode 107 with an idea they called The Funhouse Project. They hope to harness the interest of the millions of visitors who pass through Time Square, in New York City, by creating a low-cost entertainment venue along the lines of a street fair. They plan a 25,000 square foot area, with 5 venues. Will the Sharks buy into the spectacle, or will Robbins' and Adamovich's circus act turn out to be an illusion that fades away without a deal?
The Funhouse Project Shark Tank Recap
Robbins begins the presentation with a simple magic trick, demonstrating his skill, before asking for a $300,000 investment for 20% of the company. He then asks Adamovich to demonstrate his specialty. Adamovich complies, putting on a knife-throwing act, to the shock and delight of the Sharks. Daymond John is so intrigued, he volunteers to stand in front of the board, barely flinching as the knives thud into the backdrop.
The Sharks are intrigued, but skeptical of the idea. Robbins explains that admission will cost $15 per person, and that they hope to gross $9.4 million in the first year. He admits that the cost of start-up is in the range of $1.5 million, and that the cost of operations will run to $7 million annually. The Sharks are restless. The numbers reveal a heavy risk. The sales would have to be strong and steady to maintain the enormous operating expenses.
Kevin O'Leary is most vocal, calling the plan "nuts." He questions the numbers, pointing out the enormous risks involved in a completely untried business model with projected costs in to the upper millions and no guarantee of a profit. He is out almost immediately. Robert Herjavec doubts that the business model can work, and says the risk is just too high for him. He's out. Harrington quickly follows, citing the risk as his reason. Barbara Corcoran mentions the cost of branding as her reason for not offering a deal. Daymond John also refuses. The final Shark has spoken, and Robbins and Adamovich leave the Shark Tank with no deal.
The Funhouse Project Shark Tank Update
After the pair leaves the stage, Kevin O'Leary tries his hand at knife-throwing. He asks Barbara Corcoran to volunteer, but she declines. His throwing skills are impressive, though, and he sticks a knife firmly into the wood back board.
Robbins and Adamovich are clearly disappointed by their lack of success in the Shark Tank. Without an investment and the backing of the Sharks, The Funhouse Project never gets off the ground. The two side-show carnies fade into memory, like cotton candy melting on the tongue. The Sharks haven't bitten this time, and The Funhouse Project never gets off the ground.
Company Information
This business never even started.