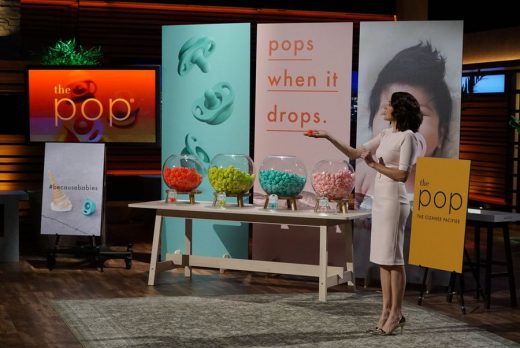 Nicki Radzely pitches The Pop, a 100% medical grade silicone pacifier that pops into a protective casing when dropped on the floor. The silicone makes sure it stays bacteria free. The Pop is the result of Radzly's partnership with fellow momtrepreneur Janna Badger, who initiated the idea. The pair developed the product while Badger was half way around the world in Soeul,  South Korea.
Badger and Radzely worked together to design and source the product for over a year and received a patent in November, 2015. They got the funds to start their company, Doddle (which means an easily accomplished task), with a successful Kickstarter Campaign that raised $22,708 in early 2016. For now, The Pop and a teether are Doddle & Company's only products, but the women want to develop more products as time goes by.
The company has lots of buzz and positive press. The bacteria free silicone construction coupled with the ability to snap into a protective case won the product an Innovation Award from Juvenile Products Manufacturers Association this year. You can get one Pop for $9.99 or a two-pack for $18.99. They come in six different bright colors. The teethers cost $9.99 each and don't feature the protective casing when dropped.
Radzely likely wants a Shark's help getting the word out and the products in big box retailers. Will a Shark pop for this unique baby item?
The Pop Company Information
Video

Posts about The Pop on Shark Tank Blog
Pop Pacifier by Doddle and Company
The Pop Shark Tank Recap
Nicki enters the Shark Tank seeking $250,000 for 5% of her business. She tells her story, gives her pitch and hands out samples. Daymond and Robert put them in their mouths. Nicki goes on to tell the Sharks the product is patented and they are in Nordstrom and Buy Buy Baby. While they sold 25,000 units on Kickstarter, the company has only been officially "open" for four months prior to taping. One unit costs $1.20 to make and they sell for $9.99.
Daymond is the first Shark out citing the high valuation. Kevin decides to offer $250,000 for 10%. Then Sara offers $250,000 for 15%. The extra 5%, says Sara, is because she'll be able to highlight it to millions of women on her website. Mark goes out and Lori joins Sara in offering $250,000 for 20% – 10% each. After trying to negotiate with Lori, Sara and Kevin, she accepts Kevin's offer
The Pop Shark Tank Update
The Shark Tank Blog constantly provides updates and follow-ups about entrepreneurs who have appeared on the Shark Tank TV show. The deal with Kevin closed and he has a seat on the company's board. In April, 2018, the company got in a major bank SNAFU when their bank, JP Morgan, froze their bank accounts. The company couldn't receive payments, pay vendors or employees. After two weeks, the bank apologized and said it was a mix-up. They drafted letters to the company's vendors explaining the problem. Since that episode, the company has been stable and not terribly newsworthy.
They did change their name to Doodle & Co and introduced teethers and a "Pop 2.0" in 2018. As of April, 2023, they are chugging along and doing $1 million a year in revenue.