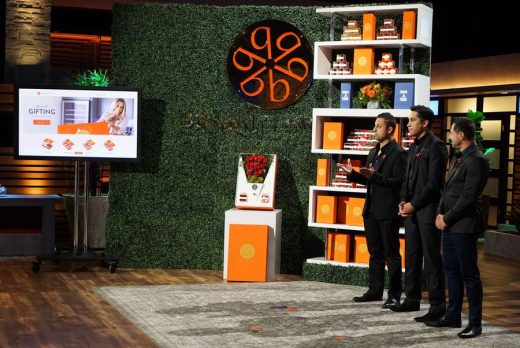 David Yusuf, Sal Aziz and Alex Amidi seek a deal for Bouquet Bar, their "entirely new and beautiful way to gift," in Shark Tank episode 913. The guys started the company in January, 2017. Yusuf and Amidi own a high-end floral design company called Square Root Designs. Since 2002, the pair decorated some of the most exclusive hotels with their designs. They decided to start Bouquet Bar when their customers kept asking them to design arrangements as gifts.
Basically, Bouquet Bar lets customers send a fancy gift box, with or without flowers. They have ready-made boxes for various things like birthdays, "thank yous," love and even sympathy. Boxes include fancy candies, bath bomb, cacti and more. Some boxes also contain a bouquet of flowers. If you don't like the ready-made boxes, you can design your own. They also design special boxes as corporate gifts.
Pricing ranges from $48 to $170, depending on the size of the box and what's in it. The boxes are very elegant, the flowers  are beautifully arranged and fresh, and the gift items are all top of the line. Bouquet Bar likely wants the juice a Shark brings to a business, plus some cash for marketing. Will a Shark box up a deal with this gifting business?
Company Information
Video

Posts about Bouquet Bar on Shark Tank Blog
Bouquet Bar Shark Tank Recap
David, Sal and Alex enter seeking $150,000 for 10% of their business. They tell their story and give the Sharks sample boxes. The Sharks like the quality of the boxes. Mark wants to know if you can customize boxes: you can. Daymond wants the numbers. A small box costs $20 and sells for $50. The medium box costs $34 and sells for $75. A large box costs $68 and sells for $155. Shipping is $12-$15. As for revenue, they've done $100,000 in four months and they are not profitable yet.
The three guys have $600,000 of their own money in the business. Half of that was spent developing the products. They have enough inventory to do $1.2 million in sales and they're ready to scale. Lori thinks their product is similar to Sugarfina; she's out. Sarah agrees with Lori and she goes out. Daymond thinks there is too much education to be done; he's out. Kevin thinks their customer acquisition cost is too high; he's out. Mark offers$150,000 for 20% and he  says it;s non-negotiable. They quickly agree.
Bouquet Bar Shark Tank Update
The Shark Tank Blog constantly provides updates and follow-ups about entrepreneurs who have appeared on the Shark Tank TV show. This company went out of business in December, 2019. Alex and David continue their work at Square Root Designs. Sal continues to work at his digital agency, Adaptive Media.