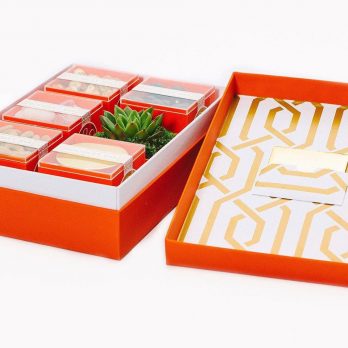 David Yusuf, Sal Aziz and Alex Amidi want to reinvent gifting with The Bouquet Bar. Now, instead of just flowers, candy or some other gift, now you can customize a gift box with this new service. All gifts come in an elegant, orange and white box. With the "design your own" option, just pick your box size and price, add a flower arrangement and/or up to six additional gifts. Gifts range from cacti to candy, bath soaps to beef jerky, there are even socks and neck ties. Of course flower arrangements are an option too.
If you don't want to design your own box, they have ready to go boxes too. Whether you're sending a Valentine's Day gift, Birthday gift, or just a "thank you" gift, there's a box for that.They'll also customize boxes for bridal parties and corporate gifts.
Flower arrangements were the genesis of the Bouquet Bar. Yusuf and Amidi have been arranging flowers for high-end clients out in Orange County California since 2002. Their floral arrangements for weddings, events and hotel lobbies earned accolades for years. After hearing people ask how they could send a Square Roots floral arrangement as a gift, they decided to create an "entirely new and beautiful way to gift." That new way is the Bouquet Bar.
The business only started a year ago – in January 2017, and they are killing it. Since they already had 15 year's worth of clients, all they had to do was let them know and the sales started rolling in. People always want to give something cool, unique and beautiful; the Bouquet Bar fits the bill. They likely want a Shark's help to accelerate their growth when they pitch the business in episode 913.
My Take on The Bouquet Bar
I send my mom, mother-in-law and wife flowers several times a year each. For the past few years, I've been shipping flowers from Bouqs from Shark Tank season 5. This year, I think I'll try something new and send a gift box – with flowers – for birthdays, Mother's Day, Valentines Day etc.
Women love flowers. Every important woman in my life enjoys when I send them. I usually send my wife's flowers to her office so her work pals can be impressed with what an awesome husband she has. The Bouquet Bar steps it up a notch; now I can send more than just flowers now and be a real hero.
You can send a Bouquet Bar box to guys too. Many men would politely thank you if you sent them flowers. Most of my friends would punch me if I sent them flowers – that or they'd avoid me for a while! With Bouquet Bar, you can send a guy a cactus, beef jerky, socks, boxers and a new tie – what guy wouldn't want to open a box with that stuff in it? With Valentines Day approaching, I'll be shipping off one of these gift boxes very soon. I'm in.
If you want to send someone a gift box from Bouquet Bar, go to their website.
Will the Sharks Feel Boxed In?
These guys have been (and still are) running a successful business for over 15 years. They know what their customer wants and they consistently deliver. They clearly designed a quality product and they have the "back office" fulfillment already in place. If they offer the right deal, the Sharks will bite.
Mark Cuban was kicking himself after not investing in Bouqs. That company is doing HUGE business. In fact, Robert invested in Bouqs three years after their episode aired. Mark certainly knows this and may offer to invest because of "FOMO" (Fear Of Missing Out).  Other Sharks may bid, too.
A picture of Lori Grenier appears on Bouquet Bar's website; that could indicate a deal with Lori, I wouldn't be surprised if Bouquet Bar entertains multiple bids. I'm betting a large Champagne Box this business gets a deal.