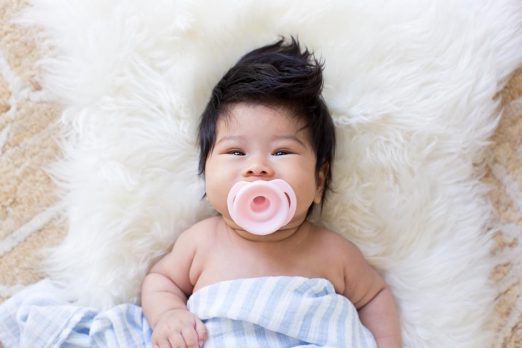 Doddle and Company's Pop Pacifier is the result of an intercontinental entrepreneurial partnership. Nicki Radzely and Janna Badger developed the product – a pacifier with a "disappearing nipple," while Radzely was in the New York area and Badger was in Korea. Badger actually came up with the idea while working in design in San Francisco. Her patent attorney introduced her to Radzely who was working in healthcare marketing and advertising at the time.
The two shared the distinction of being busy working mothers who faced hundreds of little problems each day. One of the problems they commiserated on was pacifiers. Babies and kids are always dropping pacifiers, and moms are always cleaning them. While this is an easily accomplished task – or "doddle," it was just one of those things that interrupts the flow of the day. Badger envisioned a pacifier that, when dropped, would pop a protective case over the nipple.
Her idea became the Pop Pacifier. The women decided medical grade silicone, which is antibacterial, would be the best material to make their new idea out of. They formed their company, Doddle & Co., and got to work. When their prototype was perfected, they launched a Kickstarter, raised a little under $23,000 and started shipping the Pop to backers. Now they're on Amazon and thinking about what's next. With a Shark's help, they want to sell more Pops and continue growing their business. If they're successful in episode 913, maybe Badger will come back to the States!
My Take on The Pop
We always called pacifiers "binkies" when our kids were little. With five kids, the binky was a ubiquitous item in our home for many years. We had little leashes for them that clipped to the kids' clothes so they wouldn't drop; they still did.
Clearly, the Pop is for first-time parents. There's a joke I tell to new parents: when the binky falls on the floor with your first child, you put it in boiling water for five minutes. With the second child, you wipe it off. By the time the third child comes along, you've trained the dog to retrieve it! We always used the "five second rule" (if something's on the ground less than five seconds, there's no germs transferred), and our kids never got sick from a dirty binky.
Still, I get what Badger and Radzely are pandering to. As a first-time dad, I was hyper aware of everything. By kid number three, I was chill. First-time parents spend (as did my wife and I), often irrationally, on anything that will make their baby safer, healthier, happier, smarter etc. That's why Doddle and Company is going to sell a boatload of Pops. I am in.
Will the Sharks Pop for this Business?
The deal's the thing for this pitch. It seems like season 9 is the "silicone season" on Shark Tank. It seems like there's a silicone product on every week. Both Lori and Mark invested in silicone products this season – maybe they should open a silicone manufacturing plant together. If either of these two Sharks see value, they could bid.
With Sarah Blakely on the show, she could make a play here too. She'll like Radzely: she's smart and she's no fool. Sarah will like the collaborative effort part of the story, too. It's going to be a "woman power pitch" and Blakely will bid, too. I think Doddle and Company will have more company by the time the show is over.