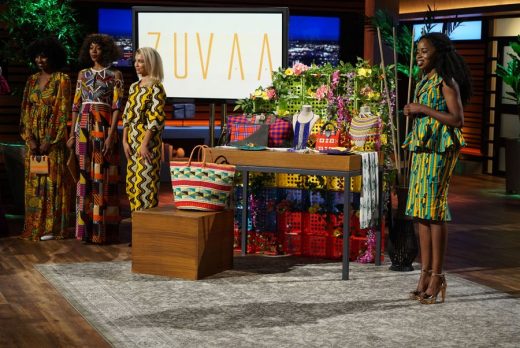 Kelechi Anyadiegwa introduces colorful African designs to the Sharks when she pitches Zuvaa, her clothing line, in Shark Tank episode 913. Anyadiegwa started the clothing line in 2014 with just $500. She's of Nigerian descent and  grew up wearing African designs. She kept getting compliments on her clothes, so she bought a domain and started selling African inspired clothing from all around the world.
Using her technical skills in online community building and her design education, she quickly built the company into a $2 million sales behemoth in a very short time. She even made the Forbes retail and eCommerce 30 under 30 list. Unfortunately for Ms. Anyadiegwa, the success was too much to bear.
The Zuvaa website redirects to a kind of public apology. It states the business "lacked the right infrastructure to support a growing company." Problems with over projections, the company website, a small staff and paying sellers contributed to the complete failure of the business model. There are still limited items for sale on the site, but not as many as there were a year ago.
To her credit, she's owning the problems and vows to re-emerge in 2018 with a new business model that will succeed without dragging the company down. Zuvaa clearly grew too big, too fast. Still, she feels the business has "barely scratched the surface on this opportunity." She'll likely be looking for a Shark's help managing growth. Will a Shark design a deal for this unique clothing company?
Zuvaa Company Information
Video

Posts about Zuvaa on Shark Tank Blog
Zuvaa Shark Tank Recap
Kelechi enters the Shark Tank seeking $460,000 for 10% of her business. She has models in some of her clothing with her. After giving her presentation, she hands out samples to the Sharks. She turned a $500 investment into a company doing $2 million in sales in less than two years, which impresses the Sharks. She earns by charging designers a $50 monthly fee plus a 17% commission. She's doing $50,000 in monthly revenue but she's just breaking even.
Mark doesn't like the valuation and he's the first Shark out. Sara is next, also citing the valuation. Lori doesn't think she needs an investment, she's out. Daymond sees potential liability issues in vetting designers; he's out. Kevin offers a $460,000 loan at 12% interest for 10% equity. Kelechi declines.
Zuvaa Shark Tank Update
The Shark Tank Blog constantly provides updates and follow-ups about entrepreneurs who have appeared on the Shark Tank TV show. This company was completely shut down before the original air date on 1/21/2018. In February, 2020, she rebranded the business to Uju Media and said the site would be up and running in 2021. As of June, 2021, the website is up and functioning, though revenue information is as yet unavailable. As of November, 2022, the new site is promoting 3 clothing brands. By February, 2023, the company added a home decor brand. In April, 2023, the company website is gone and social media is too.