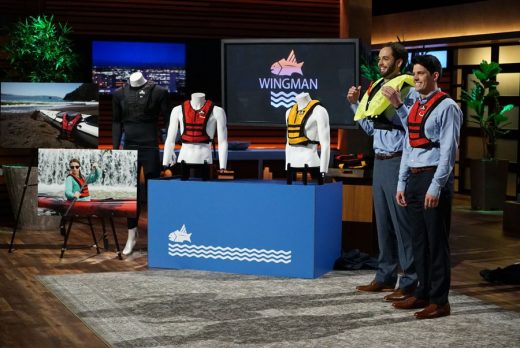 Mike Fox and Pat Hughes seek an investor for The Wingman, their versatile life jacket for multiple uses, in Shark Tank episode 913. Hughes and Fox are life-long friends and partners in Hyde Sportswear. They got the inspiration for The Wingman when a tri-athlete drowned in Hughes' first triathlon in 2012. Both Hughes and Fox set out to design the thinnest life jacket possible so tri-athletes, surfers, fishermen, boaters and kayakers could configure and optimize it for whatever activity they were engaged in.
Their US Coast Guard approved jackets feature a sleek design due to an inflatable bladder activated by a CO2 cartridge. When you're wearing it, the bladder is deflated. If you go in the water, a rip cord activates the CO2 cartridge, inflating the vest. Unlike bulky foam life vests, The Wingman fits almost like a shirt – until activated. Replacement CO2 cartridges are standard 23 Gram 1/2 inch threaded CO2 cylinders which are approved for a Marine environment. There's even an optional hydration bladder to store drinking water right in the life vest.
After nearly three years of designing and patenting their product, Hughes and Fox made the first batch of life vests with funds from a successful Kickstarter campaign that raised $67,529 back in the fall of 2015. Since then, they've sold quite a few life vests at $249 each, which is far less than other commercially available inflatable life vests on the market. In addition to the vests, Hyde also sells compression apparel for water sports enthusiasts.
The product currently sells on Amazon, though they were previously selling on SwimOutlet.com. They most likely want to increase both their on and offline distribution channels. Will a Shark throw a lifeline to this company and invest?
The Wingman Company Information
Video

Posts about The Wingman on Shark Tank Blog
The Wing Man – Inflatable Life Preserver
The Wingman Shark Tank Recap
Mike and Pat enter the Shark Tank seeking $200,000 for 12.5% of their business. They give their pitch then hand out samples. The guys encourage the Sharks to try them on and inflate them. Sara pulls her cord before properly buckling it; as a result, she can't get it off! It needs to be properly buckled so there is resistance for the zipper. The jackets are US Coast Guard approved. Each unit costs $65 to make and they sell for $249. When they start ordering in bigger numbers, they can bring the price down. In the last 10 months, they have $120,000 in sales.
Lori says it's too early for her and she goes out. Sara doesn't like to get involved with anything that has a potential for liability issues; she's out. Daymond thinks it's a crowded niche market; he's out. Mark thinks it will take a lot of money to make it work; he's out. Kevin offers $200,000 for 50%. They counter with 20% and Kevin says no. They counter with 25% and Kevin says no again. Not wanting to give up half their company, they leave without a deal.
The Wingman Shark Tank Update
The Shark Tank Blog constantly provides updates and follow-ups about entrepreneurs who have appeared on the Shark Tank TV show. Since airing, they dropped the price to $199. They added apparel, hydration bladders for the vests and surfing vests to the line. The company is not in any retail stores; they sell on their website and Amazon. As of April, 2023, they are still in business with $1 million in annual revenue.