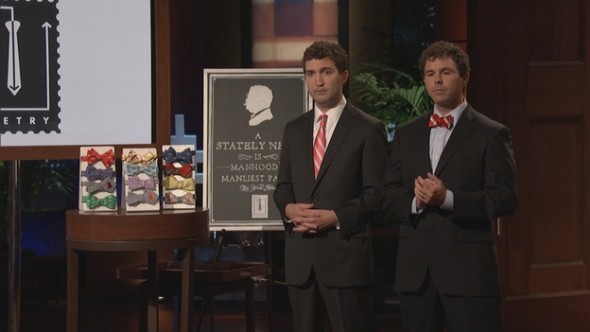 David Powers and Scott Tindel bring their business, Tie Try, to the Shark Tank in episode 411. The pair have come up with a unique approach to menswear. Tie Try is a subscription service that essentially allows men to rent ties for a small monthly fee. Customers can order their ties online, and exchange them when they want to try a new style or color. For a nominal fee, dapper businessmen can exchange ties as often as the mood takes them, expanding their wardrobes without breaking their budgets.
Will the Sharks buy into the Tie Try business, or will they give this one a pass?
Tie Try Shark Tank Recap
Powers and Tindel come into the Tank seeking $100,000 in exchange for 25% of the company. The pair are attorneys. Powers explains that they both felt as if they were "wearing the same few ties, over and over." They spoke to others in similar positions, and realized that many men were frustrated by having a limited number of ties to choose from.
Kevin O'Leary wants to know how much it costs to acquire a customer, the main cost in a subscription service like Tie Try. Powers explains that they've been able to achieve their current level of success through free publicity and word of mouth. Robert Herjavec wants to know how many subscribers they currently have. Tindel responds that they have 110 subscribers.
Kevin O'Leary says that he "buys ties all over the world" and spends thousands every year on ties. He wants to know "where do you add value for me?" Tindel explains that the subscription model offers customers $700-800 worth of ties per month, for a subscription fee of under $15.
Robert Herjavec wants to know how they plan to expand the business. The pair respond that they intend to implement a referral program. Daymond John asks if they intend to expand their product line in the future. Powers explains that they'll eventually expand into other accessories, like cufflinks, suspenders, and vests.
Mark Cuban wants to know about "turn," the rate of customers who will cancel their subscriptions. The current turn is 15%, which presents a problem. The pair are going to have to figure out how to replace the subscribers who cancel. "Free press only goes so far," remarks Cuban. Robert Herjavec feels that the idea is a solid one but the subscriber base is simply too small. He's out.
Without a strong sales plan, the Sharks smell blood on Tie Try. Kevin O'Leary, in an uncharacteristic gesture, throws the floundering entrepreneurs a line. He makes an offer for $50,000, but refuses to name a percentage. He wants the pair to convince a second Shark to buy in with him.
Barbara Corcoran is out for the same reason as Herjavec. The small subscriber list is a challenge for Tie Try. Daymond John "did not hear one word about fashion," in the presentation. He doesn't feel the pair are "obsessed over" their business. He's out. Only Mark Cuban is left.
He wants to know about the cost of acquiring new customers. When neither entrepreneur can give him a solid answer, he tells them, "You guys are guessing. You guys are hoping. You haven't thought this through, and for that reason, I'm out."
With no other Sharks willing to come in on his deal, Kevin O'Leary goes out. There is no Shark deal for Tie Try.
Tie Try Shark Tank Update
Lack of preparation is an all-to-common problem with Shark Tank pitches, as is bringing a company to the Sharks too soon. The proof of concept stage is important to a new business, but investors need to see more than the initial success. Solid sales numbers are a must, and Tie Try simply didn't have the sales to back up their pitch.
After their Shark Tank failure, Tie Try struggled to stay afloat. In the end, the company was acquired in May, 2013, by a New York City competitor, Freshneck.com for an undisclosed amount. Tie Try swam with the Sharks, but was swallowed up by a bigger fish.
Posts about Tie Try on Shark Tank Blog