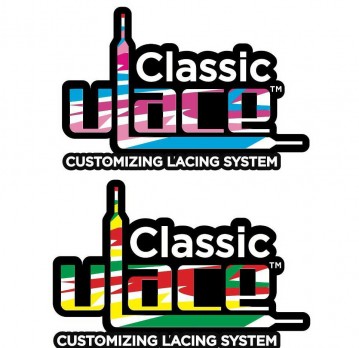 Tim Talley laces 'em up and pitches his custom lacing system called U-Lace to the Sharks in episode 521 on March 7. U-Lace allows anyone to "customize their kicks" with a series of different colored laces that easily create any pattern imaginable. The way it works is each U-Lace spans "a single set of sneaker eyelets" so you can lace up as many colors as there are eyelets. Each U-Lace is made from "LacedFeelTM  stretch material" that eliminates tying and makes kicking your kicks on and off easy.
Talley got the idea for ULace in 2007 on a trip to Japan. When he got back to the states, he began working on a prototype. His first batch of packaged U-Laces arrived in 2008 but they were too tight. After some tinkering, he perfected the "LacedFeelTM" technology and had a sellable product in February, 2009. Later that Spring, he added colored laces to the line and by July, he had a European and Japanese distribution deal. In 2010 he made the big time and got on the Today Show.
Talley has made and sold well over 100,000 units to date. He's likely looking to partner with a Shark to get mass distribution.
U-Lace Shark Tank Recap
Tim struts into the Shark Tank looking to trade 25% of his company in return for $200,000. He claims that the average kid has 10 pairs of sneakers. U-Lace allows kids and adults to customize their sneakers, and turn them into slip-on shoes.
He passes out sneakers to each of the Sharks with a customized set of colors for each. The fit can be  adjusted by hooking the U-Lace into different holes on either side of the shoe.
Each set costs $3.49, and costs $.35 to produce, a good margin. Tim has a global distribution network, and has made $193,000 in the current year. In the first year, he sold $300,000 worth of product in Japan, but in the next year, Japan suffered a devastating tsunami which destroyed the producer.
When he brought the product to the US, he started out with a larger pack that sold for $7.99. He soon discovered that a smaller package at a lower price point sold many more units. Tim is selling through a website and some large sneaker retailers. He projects selling $400,000 by the end of the year.
Who's In?
Lori Greiner finds the product "uncomfortable," with the small tabs that keep the shoelaces in place. She doesn't believe she's the right person for the product, and she's out.
Robert Herjavec believes that Tim needs someone with the experience to help him. He's out.
Daymond John is the natural fit for a fashion based product, but he's quiet at first. He explains that he's already partnered with a company that will be in conflict in the market. Regretfully, he's out.
Kevin O'Leary isn't sure what the company's worth, but he's willing to make an offer: $200,000 in exchange for 50% of the company. Tim counter offers for 35%. Before O'Leary can respond, Mark Cuban jumps in and says he'll "do that deal."
Tim accepts, and leaves the Shark Tank with a deal.
U-Lace Shark Tank Update
Tim and Mark closed their deal and U-Lace appears to be a trend, not a fad – an important distinction according to Tim. The U-Lace trend has carried him forward, gaining a spot in Amazon, Target and 7-11 stores. The products are still selling strong, and social media is active, a sign of a healthy and thriving business. Mark Cuban tied up this deal, and launched U-Lace into kids' sneakers everywhere.
The business continues to sell well in Target stores. In late 2015, they launched U-Locks Mono, a line of custom steel lace locks that can be affixed to laces. In 2016, they launched U-Lace Performance, which is made for use in competitive athletic settings. They even sell basketball nets. In 2020, they launched Lace Buddies – letters that can be placed on the laces to spell out words. During the Covid-19 pandemic, the company did a social media campaign on Twitter. It featured photos of messages on laced sneakers like "Call A Friend," "Stay Calm," "NYC Strong," "Peace Be Still," and "It Will Be OK." The company auctioned of the sneakers and gave the proceeds to front line health care workers. They also introduced sneaker cleaning wipes. With all the innovation and continued strong sales, it looks like U-Lace is here to stay.
As of August, 2023, the company is still in business with $2 million in annual revenue.
Posts About U-Lace on Shark Tank Blog
U-Lace Information
U-Lace Video