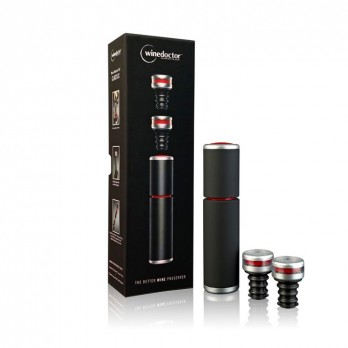 Chase Hoyt and his father pitch their high-tech cork system, called Wine Doctor, in Shark Tank Episode 529. The Wine Doctor is a silicon cork and vacuum pump that removes all the air from an opened bottle of wine before re-corking it. The corks/stoppers have specially designed o-rings using  "True-SealTM technology" to assure a tight seal. If air does get in, each stopper has a red indicator that lets you know if you need to pump out more air.
Hoyt and his dad invented the Wine Doctor back in 2008 when they encountered a ruined bottle of wine they'd opened the night before. After a few years of tinkering, they emerged with the patented Wine Doctor and went into business in 2011. The product is available at Bed, Bath, and Beyond, many independent liquor and wine stores, vineyards, and Amazon.
The Hoyts are likely looking for cash to fulfill orders and a strategic partner.
Wine Doctor Shark Tank Recap
Chase and his father, Bob enter the Shark Tank seeking $250,000 for 10% of their business. The valuation makes the Sharks shudder. The present the product , give their pitch and hand out samples. Kevin says he has every wine preservation system out there. What makes this one different is the red indicator. Last year (2013) they did $150,000 in sales and they are on track for $350,000 this year. He explains the valuation when Kevin balks at it: he has proof of concept, proof of market and intellectual property. They are also coming out with a similar product for Olive Oil.
Barbara thinks there are already a lot of wine preservers out there and doesn't see much difference; she's out. Mark doesn't know enough about the market; he's out. Lori says products like these don't sell well on QVC; she's out. Robert says it's not for him; he's out. Kevin says he uses a competing product every day. He thinks they're being greedy with their$2.5 million valuation and he goes out.
Wine Doctor Shark Tank Update
The Shark Tank Blog constantly provides updates and follow-ups about entrepreneurs who have appeared on the Shark Tank TV show. This sold well on Amazon and in Bed Bath and Beyond for a while. Unfortunately, reviews were mediocre.
The Hoyt's shut the business down in December, 2018. As of August, 2021, Chase now sells real estate in Beverly Hills for Sotheby's. Bob is an independent writer and editor.
Posts About Wine Doctor on Shark Tank Blog
Wine Doctor Information
Video