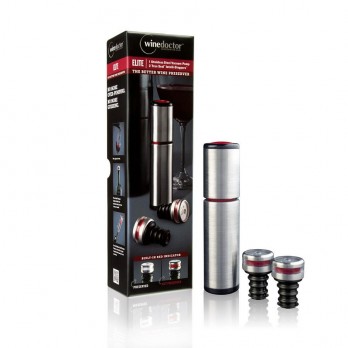 "Winetrepreneur" Chase Hoyt and his father pitch a high tech cork, called the Wine Doctor, in Shark Tank episode 529 on April 18. The Wine Doctor is much more than a high tech cork, it's a vacuum pump system that pumps air out of an open bottle of wine then seals it with an "intelli-stopper," a patented, silicon "cork" with a series of O-rings that ensure an air tight seal. Should any air leak into the bottle, there's a red indicator on the stopper that lets you know it's time to pump more air out.
Air is the enemy of wine. Too much air and that nice bottle of Cabernet turns to bitter vinegar. Once a bottle is opened, the wine starts to change unless the air is blocked from hitting it. The Wine Doctor's vacuum pump and high tech cork system claims an open bottle of wine can stay "fresh" for a week or more.
My Take on the High Tech Cork
We like our wine in my family. My dad cellars a few hundred bottles and always has the perfect wine for family events. We usually have wine with dinner one or two times a week. When it's just my wife and I, we won't finish the bottle. We have fancy stoppers, but nothing rivaling the Wine Doctor's high tech cork solution.
At only thirty-three bucks or so, it's not too expensive. If you "save" one or two decent bottles of wine with this product, it pays for itself. I like the indicator that lets you know if any air is getting in, since air is invisible, visual aids help! This makes a great gift for any wine connoisseurs on your list, too. I see my family buying two or three of these this year.
Do Sharks Uncork Funding?
Wine products do well on Shark Tank. In season three, we saw Gary DeJohn walk away from the tank without a deal for Vinamor, a wine aerator. Even though he didn't catch a Shark, DeJohn went on to do big sales, as he told Shark Tank Blog in this Vinamor update.
Wine Balloon (now called Air Cork) was another season three wine product. Eric Corti got a deal with Lori for his device, which aims to do the same thing as the Wine Doctor. Corti's invention uses an inflatable bladder inside the bottle to keep air out. While they both accomplish the same goal, he Wine Doctor's solution is more high tech and cleaner. Since Lori invested in Air Cork, I think she's out on Wine Doctor.
Other Sharks may be interested, but Mr. Wonderful is the wine expert on the panel. It's well-known he owns O'Leary Wines and he always grabs a glass when an entrepreneur brings wine. If he likes this product (he may already own it) and the valuation, he'd be the best partner for the Hoyts. Other Sharks could bid, but a partnership with Mr. Wonderful should be just what the (Wine) Doctor ordered.