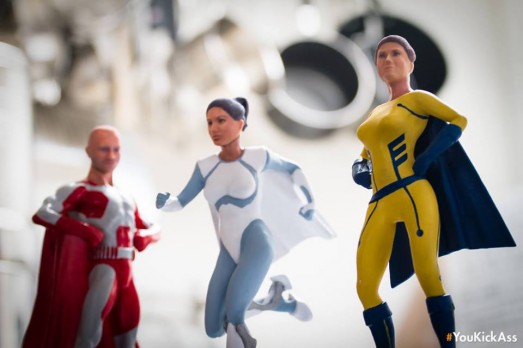 Keri Andrews and Alesia Glidewell hope to kick some Shark ass when they pitch You Kick Ass, their personalized action figure business, in Shark Tank episode 625. Glidewell is an actress and voice talent who learned the action figure and animation business while being the voice and body model for the Portal and Portal 2 video games. Andrews is a former Microsoft program manager. The two women are the latest Shark Tank entrepreneurs with a successful Kickstarter campaign: they raised over $45,000 on a $15,000 goal back in the summer of 2014. While they had some problems fulfilling orders for their backers, it appears they are on track and shipping now.
What You Kick Ass does is make custom heads for pre-fabricated super hero bodies. Send them a picture and they'll make a head from it with a color 3D printer. They snap the head onto the super hero body you select and, VOILA, you have a personalized action figure. They make great gifts and promotional items – they'll have Shark super heroes to demonstrate during their pitch.
Each action figure costs $60. Right now, their delivery time is 4-6 weeks from when they receive your photo. The You Kick Ass superheroes are "generic," there are no licensed heroes from the likes of Marvel or DC Comics. They're likely looking for a Shark to help them streamline production and perhaps pursue licensing deals.
Will Keri and Alesia be superheroes and land a Shark?
You Kick Ass Shark Tank Recap
Keri and Alesia enter seeking $100,000 for 10% of the business. They show some samples and how their software works, then they hand out samples of each Shark as a superhero. The Sharks love them!
They tell the Sharks about how they learned about 3D modeling and marketing. They are not at market yet. It's costs $15 for one model and they sell for $60. Each 3D printer can produce 100 heads per day. New printers cost $45K, but they own two used printers they bought for $20K each.
There are other personalized action figure businesses, doing a small amount of sales. Their best customers are aged 30-45 years old. Robert thinks it's clever, Mr. Wonderful wants to know if it's proprietary. The 3D printing software they developed is patent pending.
Barbara thinks the likenesses aren't good, Mark thinks it's an issue too. The women say precision is an issue and Barbara thinks that's a problem, she's out. Robert likes the idea and likes the women. He offers $100,000 for 20%. Mark wants to know what's next, Mr. Wonderful thinks they need to run very fast ahead of 3D printer development. Mr. Wonderful offers $100k with a $10 per doll royalty until he gets his money back, then it drops to $2.50 in perpetuity; he also gets 5% equity.
Mark sees the company as a technology company with the value in the software, he offers $100K for 10% and they accept!
RESULT: DEAL with Mark for $100K for 10%
You Kick Ass Shark Tank Update
The Shark Tank Blog constantly provides updates and follow-ups about entrepreneurs who have appeared on the Shark Tank TV show. The deal with Mark never closed and this company went out of business a year later. The technology Mark was interested in already existed and the company that now owns the Youkickassdotcom domain was the real innovator in personalized action figures.
Posts About You Kick Ass on Shark Tank Blog
You Kick Ass Company Information
Video