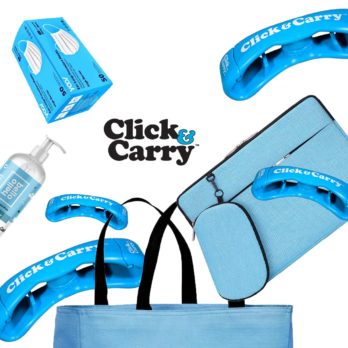 Click n Carry is a little handle that lets you carry multiple grocery bags at a time. If you've ever struggled to get from your car to the door of your home while multiple shopping bags cut off the circulation in your fingers, you'll want one of these. The idea for the product came to Kim Meckwood in a dream back in 2008. She had a 3D printer prototype made and she was ready to sell.
Kim, a medical device sales rep, developed breast cancer and put the idea aside while she healed. Once she beat cancer, she decided to go all out with Click n Carry. After selling one product at a time at flea markets and farmers markets, she got "discovered" by a QVC buyer at the Home + Housewares show in Chicago. After that, selling was easy.
Now, she sells Click and Carry at major chains like Ralphs, The Container Store, CorningWare and ShopRite. It's also a big seller on Amazon. She's still employed full time as an 'Executive Neuroscience Sales Specialist at Acadia Pharmaceuticals, so she may want a Shark to help her transition to full time at her own business. We'll see what happens in episode 1125.
My Take on Click n Carry
I usually bring reusable bags to the store these days. Plastic bags are just plain bad for the environment. That said, this product will work on those bags too. I almost always carry multiple bags from the car, resulting in  numb fingers. The kind of bag doesn't really matter, the clip holds up to 80 pounds, so you can really load it up!
For twelve bucks, is it worth saving my fingers? I'm not sure, but I'm willing to bet a lot of people will buy it. She sold out multiple times on QVC, so why not after a Shark Tank appearance?
Will Sharks Carry This Business?
Kim is engaging and knows how to pitch her product. The Sharks will like her story and probably her sales figures. What they may not like is that she's still employed full time. The Sharks want entrepreneurs who are 100% dedicated to their business.
That said, you'd think this would be right up Lori's alley. The past QVC success, the mass appeal and the low price point make it a product that could be a hero. Other than Lori, the only other Shark I see making a play for this is Kevin. He says he's the "King of QVC" and I can see him offering some kind of royalty deal. If Kim gets offers, it will be from Kevin and/or Lori.