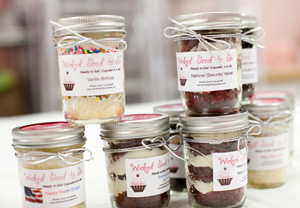 If you're like me, the first time you heard about cupcakes in a jar, you probably thought "what the heck is that?" Once you try some, you'll say "These are WICKED YUMMY!"
Mother and daughter bakers and entrepreneurs Tracey Noonan and Danielle Desroches will take their Wicked Good Cupcakes into the Shark Tank in episode 422 and hope the Sharks will take a bite out of their company and invest. For the non-Bostonians out there, "wicked" is a "general intensifier." If something is "Wicked Good," it means it's just short of blissfully good. These cupcakes in a jar are just that: WICKED GOOD!
I've had the privilege of eating Wicked Good Cupcakes on several occasions. I have friends in Cohasset, where the cupcakes in a jar originated, and they've brought them to several parties over the past year or so. I also received some in a Yankee Swap last Christmas. The idea of putting a cupcake inside a mason jar is unique and I can tell you from experience, these cupcakes are Wicked f—–' pissa!
Are Cupcakes in a Jar a good business?
Food products make up a significant portion of the businesses that appear on Shark Tank. Some get funded, some don't. The Sharks need to like the product (they'd be wicked frickin' crazy if they don't) AND believe in the business plan to invest, but quality food items can yield a nice return. Wicked Good Cupcakes has a strong local following and they sell quite a few cupcakes online. As long as the business is profitable and has a good plan in place, cupcakes in a jar could be sweeping across the nation!
Do the Sharks Bite on Wicked Good Cupcakes?
I KNOW the Sharks will like the product, but will they like the business? I predict a Shark will make an offer and it will possibly be accepted. Wicked Good Cupcakes just announced a partnership with a large commercial bakery to handle the wicked huge demand for their product. They also announced a new retail location in Faneuil Hall will open in May, 2013. Faneuil Hall is where just about everyone who visits Boston goes – it's a big, open air shopping space chock full of wicked good eateries, craft vendors, and wicked fun bars. Even my family manages to make it down to Faneuil Hall several times a year to do the tourist thing. Having a retail presence there will be wicked awesome exposure for the fledgling cupcakes in a jar business!
The reason I go on about the new partnership and retail spot is it has the earmarks of a business that partners with a Shark. Past successful food entrepreneurs have entered into arrangements with commercial bakeries and food packing contractors after doing a deal with a Shark.
Barbara Corcoran's name always comes to mind when there's a baked goods business (due to her success with Daisy Cakes), but she isn't on this episode. Still, I predict Wicked Good Cupcakes will field multiple offers. As for me, I am so wicked "IN!"